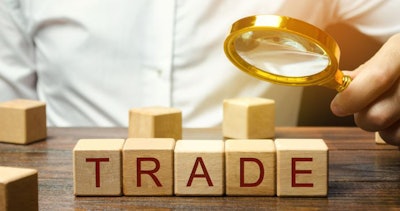 Russia's invasion of Ukraine is affecting prices, supply and demand for grains, fertilizers, meat and poultry in the US
The U.S. grain sector is benefitting from Russia's and Ukraine's inability to export, according to a new quarterly report from CoBank.
"Agricultural commodity prices have more or less kept pace with input cost hikes, incentivizing producers to expand their operations despite record high costs. U.S. grain production will be critical for supplying the world as Ukraine struggles to plant, harvest and ship its corn, wheat and sunflower seed," the report said.
Soybean oil, sorghum and soybeans to China and unknown destinations were especially strong, and are running 20%, 16%, and 7%, respectively, ahead of the seasonal pace needed to reach the U.S. Department of Agriculture's (USDA) 2022-23 export forecast, the report said. While corn exports are relatively weaker, they are still 4% ahead of the pace needed to meet USDA's forecast.
"Wheat exports have been lackluster due to limited supplies and high prices, which make U.S. wheat less competitive globally," CoBank said. "We believe that wheat exports could continue to be slow, as recent USDA crop progress reports note the recent drought may reduce expected yields for winter wheat."
Volatility continues in grain prices, as U.S. farmers are expected to plant more acres of soybeans than corn, for only the third time in history.
"U.S. farmers may not see as strong an opportunity for exports next year, despite global supply-demand imbalances stemming from the Russian/Ukraine conflict," the report said.
Prices for major fertilizers increased up to 13% in the first quarter – driven by the war in Ukraine – and there may not be adequate nutrient supplies going in the fall.
The war is also exacerbating feeding challenges faced by livestock and poultry producers, who were already seeing higher feed costs.
"However, prices for livestock, meat and poultry have all continued higher, promoting cautious optimism for producers," the report said.
For example, chicken is seeing tight supplies and strong demand, and although hog farmers' feed costs were up 17% year over year, Iowa State University estimates that farrow-to-finish operations posted a US$21.36 per head profit for the month of February, up US$15.73 per head year over year and a US$24.24 per head gain over the prior month, CoBank said.
All sectors are experiencing labor challenges, and supply chain complexities bring about vulnerability.
"Global trade set a new record in 2021 at $28.5 trillion. Supply chains are more complex than ever, which makes them vulnerable in times of crisis. And a reassessment of just-in-time supply chains is overdue. But a complete reversal of the global interdependencies that have been long established is very unlikely," the report said.