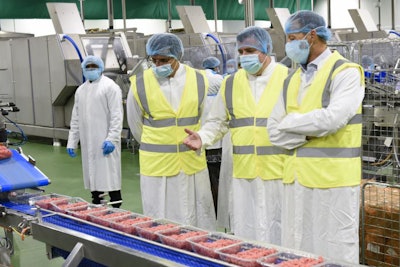 Further investment in the site will bring additional jobs to the region
Pilgrim's U.K., food and farming business and the world's largest producer of higher welfare pork, will invest in its Bromborough site to enhance its capabilities and create more local jobs.
The site has already benefited from significant investment since becoming operational last year, with state-of-the-art food manufacturing technology and equipment, making it a center of excellence for the U.K.'s fresh pork manufacturing.
Pilgrim's U.K. has now committed to further investment in the site over the coming months to improve production efficiency, overall capacity and create a single production site for all fresh and higher welfare pork solutions. It is also injecting funds to support further growth and expansion in the future capabilities of the site, including new machinery and innovative technologies in 2022.
The state-of-the-art site supports more than 120 jobs in the local area with wide-ranging operational roles, as well as engineering and technical apprenticeships.
The investment was announced at the official opening for the site held on September 30. The event was attended by Fabio Sandri, CEO of Pilgrim's Pride and Steve Murrells, chief executive of Co-op Group, which is a major customer of Pilgrim's U.K.
Pilgrim's U.K. supplies Co-op with 100% higher welfare and RSPCA assured products, with the Bromborough site responsible for the majority of this supply.
The event featured a welcome breakfast with the CEO of Pilgrim's U.K., Andrew Cracknell, and a meet and greet roundtable to provide an overview of Pilgrim's U.K. and its ambitious plans for the Bromborough site.
Guests enjoyed a guided tour of the Bromborough factory and a briefing on Pilgrim's U.K.'s sustainability strategy, including its pledge to achieve net-zero CO2 emissions by 2030, while outlining how the Bromborough site will support this ambitious target.
Andrew Cracknell, CEO of Pilgrim's U.K., said: "The coronavirus outbreak has delayed the official opening of our site, but it has not halted our plans for growth, and we are pleased to announce investment and plans for expansion.
"This investment marks our commitment to the site and the local jobs it supports, which is great news for our business, the local community and our customers.
"It was great to welcome Steve Murrells and the wider Co-op team to the official opening. We look forward to working on ways to improve our products as part of our strategic partnership with Co-op, in which our Bromborough site plays a vital role."