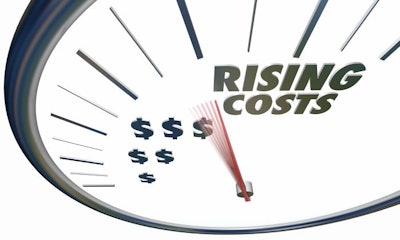 Despite optimistic projections, US soybean yields no longer on track for record year, USDA says
Soybean yields didn't ultimately achieve the rosy expectations touted by the U.S. Department of Agriculture (USDA) in October, according to the latest numbers, but soybean industry leaders are already looking forward to a comeback in 2022.
In the latest World Markets and Trade reports, the USDA cut average estimated soybean yields by .3 bushels per acre — a small adjustment but enough to drop the overall crop size by 23 million bushels, reducing the crop size to less than the record set in 2018. Analysts hadn't expected a reduction before the release of this week's reports, triggering a rise in prices as trading progressed throughout the week.
"What I can tell you about soy yields is they started out really strong," Kevin McNew, chief economist for the Farmers Business Network, told attendees of a webinar hosted by the U.S. Soybean Export Council on November 9. "Talking to some farmers today, their take on it is some of them had good yields, but the general consensus was it was a really cloudy growing season — they didn't get the solar radiation."
As a result of the cloudy weather, McNew said, this year's bean plants were relatively short, which resulted in reduced yields in some areas, especially in Indiana and Ohio.
Corn yields remained in line with expectations, according to Jim Mintert, director of the Center for Commercial Agriculture at Purdue University, with USDA increasing the total projected crop size by 43 million bushels over the October estimates. The biggest remaining question as the harvest wraps up, he said, is what will happen with plantings next spring in light of massive spikes in cost for fertilizer, pesticide, and other inputs over the past several months.
"The numbers are shocking," he said told listeners of a Purdue web series on November 10. "That's all you can say."
Farmers face total fertilizer costs of US$250 per acre, according to Michael Langemeier, associate director of the Center for Commercial Agriculture, pushing likely breakeven prices for next's years crop 15% higher than this year. Corn will have to fetch US$5.16 per bushel next year to turn a profit, and soybeans US$11.96. This year's crop is trading for US$5.68 for corn, and $12.22 for soybeans.
With nitrogen prices topping US$1,300 per ton, McNew said he anticipates "dramatic shifts in northern hemisphere acreage this year," with farmers cutting back on corn and ramping up soybean production. Langemeier said he was less certain crop production would respond with significant acreage changes — the potential returns for corn and soybeans are roughly even given current conditions, he said. However, the overall sentiment seems to be shifting away from corn, he said.
"We've heard from a lot of people saying corn will be down," Langemeier said.