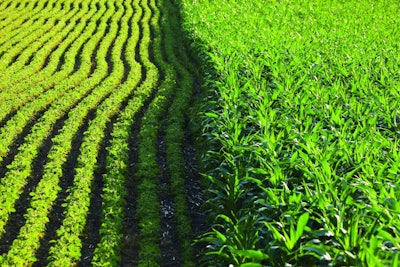 Corn, soybean planting and emergence slow after a cold week
Despite dry conditions, U.S. corn and soybean planting is slow going so far due to cold weather, but some Midwestern states are seeing good progress, according to the U.S. Department of Agriculture (USDA).
USDA meteorologist Brad Rippey said planting progress could have been faster if temperatures had been more favorable.
"As expected, we did see a pretty slow (corn) planting pace for the week ending (April) 25th. Currently, now at 17% planted, that falls behind the average five-year pace of 20%, also behind last year's pace at this time of 24%," Rippey said. Corn emergence is "also expectedly slow, as we went through a very cold week with multiple days, temperatures in the 20s in many of the nation's corn production areas."
Soybean planting progress has also been "fairly slow," he said, but it remains ahead of the five-year average. Eight percent of the U.S. intended soybean acreage was planted by April 25. The five-year average is 5%; last year at this time, 7% of soybeans were planted.
"Even with the unusually cold weather, we did see double-digit (corn) planting progress in a handful of states across the Midwest," Rippey added. "We managed to see double-digit (soybean) planting progress for the week in several states, but only one is a Midwestern state (Illinois)."
He expressed concern about seedlings that could have been damaged by the below-average temperatures, but said it's too soon to know if they will survive.
"Looking at areas that were affected by a multiday freeze event, we did see 5% (of corn) emerged by April 25th in Missouri and 2% in Illinois and Indiana. That is the only emergence that we are seeing in the Midwest. It is possible that some of that acreage that had emerged may need to be replanted if the plants were killed back to the growing point. That is something that we will not know right away," he said.
As for the cold weather, "a bit of good news is (winter wheat) heading progress is generally running behind schedule in many production areas."
He said heading had occurred on 17% of the winter wheat crop as of April 25, but freezing temperatures could still have caused some damage.
"There are concerns that freezes could have injured the (winter wheat) crop in several states across the lower Midwest and the southern Plains," Rippey said, adding that the quality of this year's winter wheat crop is slightly below the condition at this time last year.
While drought is slowing the emergence of spring wheat, dry weather is allowing planting to progress quickly.
"Still dealing with drought across the northern Plains that has held back some producers from planting but, overall, the dry weather is favorable for (spring wheat) planting progress," he said. "Even with that rapid planting, the drought and the cold weather is slowing emergence to some degree."