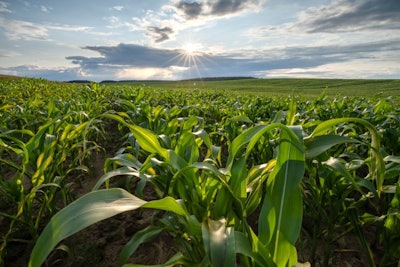 US reliance on imports of organic corn for livestock production could end within the decade
After years of reliance on global markets, concern about regulatory equivalencies and even fraud, the U.S. organic sector appears poised to achieve a major milestone: self-sufficiency with respect to organic feed corn production.
U.S. livestock producers imported nearly half the organic corn their animals consumed as recently as the 2016-17 marketing year, according to Ryan Koory, director of economics at organic commodity trading firm Mercaris. But after several years of declining imports, U.S. organic corn markets will likely achieve self-sufficiency within the next five to 10 years, Koory said.
Mercaris estimates that the U.S. is short just 59,000 acres of organic corn to meet domestic demand. Given the current pace of production growth, Koory said, attaining that goal is well within reach.
The total acreage dedicated to organic soy production has increased 43% since 2016, and additional growth seems likely, according to Koory, with a single initiative by Cargill looking to add 50,000 acres of new organic corn production.
The competitive premium organic corn earns over the conventional crop also continues to attract new farmers to the organic sector, Koory said. Organic corn prices have declined over the past year while conventional spiked, and yet organic still commands a premium. Organic sank to a low of US$6.50 per bushel last fall, Koory said. Conventional corn peaked at just over US$5.50 per bushel in early 2021, as organic prices recovered and rose to US$8.30, he said.
Organic producers have also enjoyed more consistent profits over conventional corn growers, Koory said.
"On the whole, organic production has secured positive returns, positive profits, year over year, for the past five years, compared to conventional, where there have been negative returns," he said. "Particularly over the past five years, that's been a motivating factor."
More domestic corn production could prove a boon to the organic industry, Koory said, because consumers who prefer to buy organic are also motivated by adjacent trends such as the push to support products produced locally and with smaller carbon footprints.