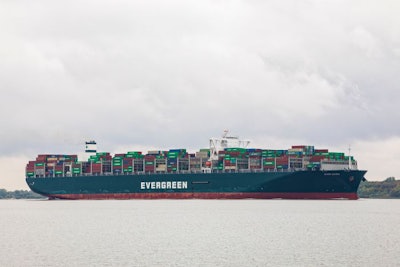 Egyptian authorities deliver rations to livestock stuck in traffic jam of ships
Even as the giant cargo ship that was stuck in the Suez Canal for days was freed on Monday, tens of thousands of livestock on about 20 vessels in the canal could be in danger of running out of feed.
According to reports, up to 200,000 animals were on board ships from Romania, Spain and South America in the canal as ship traffic backed up after the Ever Given blocked the canal for nearly a week.
Ships hauling livestock typically carry about a week worth of extra feed for the animals, but that could be running low for the ships that have been waiting the longest. The livestock-carrying vessels were en route to Saudi Arabia, Jordan and Egypt. Reports said Egyptian officials had delivered emergency feed to some ships.
Romanian veterinary and food safety authority officials said that if the delays continued, they were considering other options, such as unloading the animals in nearby ports or returning them to Romania.
"We have contacted the competent authorities in Egypt, as well as transporters and business operators, and measures have been undertaken in order to supplement the quantities of feed on the livestock vessels where is needed," the Romanian veterinary and food and safety authority told the New York Times.
Crews worked to free the 220,000-ton Ever Given – one of the world's largest container ships – after it ran aground on the banks of the Suez Canal on March 23, completely blocking ship traffic. High tides that arrived along with the full moon last weekend eventually allowed the ship to be freed.
Reports said it would take about three and a half days to clear the traffic jam of ships in the canal now that the Ever Given has been refloated.
In 2020, more than 18,800 ships carrying 1.17 billion tons of goods passed through the Suez Canal. The shipping passage facilitates about 10% of international trade and allows for direct shipping between Europe and Asia without the need to travel around the southern tip of Africa.