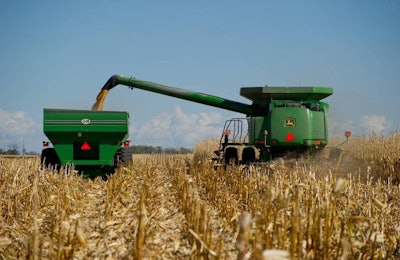 Rabobank report says US corn and soybeans will see big harvests
In the U.S., corn and soybeans are having a productive year, while exports of grains to China are strong, according to Rabobank's North American Agribusiness Review for October.
Drier and warmer-than-normal weather conditions have allowed famers to harvest at a good pace, and could allow for early planting in spring 2021. But more moisture is needed in many areas before planting begins.
Corn on track for second largest crop
Between the August and October crop production reports, corn planted acres have decreased by 1 million acres, harvested acres decreased 1.5 million acres and yield has fallen by 3.4 bushels per acre, all because of several factors. But Rabobank says the U.S. still will produce the second largest corn crop on record.
The 2020-21 crop year projected ending stocks for corn are more than 2 billion bushels and the stocks-to-use ratio is almost 15%.
"While changes in the supply side have provided market support, the big news is the potentially large Chinese export program," Rabobank said in the report.
China's need for feed grains as it rebuilds its hog herd is driving its purchases of U.S. corn; if outstanding sales are realized and added to actual exports, the 9.98 million metric tons in exported corn would be a record.
"The increase in corn imports is also being driven by Phase I Trade Agreement commitments, stock building from a food security perspective and concerns about supply disruptions from future coronavirus outbreaks. China's needs, and their demand for U.S. corn, are not a 'flash in the pan' and will continue over the next several years," the report said.
Soybeans seeing strong demand
The U.S. Department of Agriculture's October Crop Production report maintained the forecast for a record high soybean yield of 51.9 bushels per acre, but lowered the acreage estimate. The crop production estimate was lowered by 111 million bushels.
The 2020-21 crop year projected ending stocks for soybeans has been reduced to 290 million bushels, which would be a five-year low.
"The big crop and early harvest has been met by strong demand as the U.S. is the only major exporting country with ample supplies," Rabobank said.
Similarly to corn, China has been a strong buyer of soybeans as it rebuilds its hog herd.
"Weather, and Chinese demand, will be a key driver of export logistics and export prices. This will also drive interior prices as strong domestic feed demand continues to compete with global users for U.S. beans," according to the report.
Weather uncertainty for wheat
There are many weather-related uncertainties surrounding the wheat forecast, but there is plenty of supply worldwide. U.S. winter wheat planting is ahead of schedule, and planted acreage is expected to be higher than last year.
"The good news is that, despite a global recession, global wheat trade is only down less than 1% versus a year ago," the report said.
The U.S. is seeing strong exports, with China one of the destinations with the largest increase.
Alfalfa, DDGS prices coming down
U.S. alfalfa hay prices continue to fall, but are still well above the five-year average. U.S. alfalfa exports to China are strong, up 33% year over year in August and up 72% for the year through August.
Availability of dried distillers grains with solubles (DDGS) is rising as ethanol plants begin to recover and resume production. DDGS prices have come down from the highs of April but are still higher than the previous year. Prices for wheat middlings are 5.5% higher compared with 2019. Recent price increases for corn and soybean meal could lead to more DDGS use in rations.