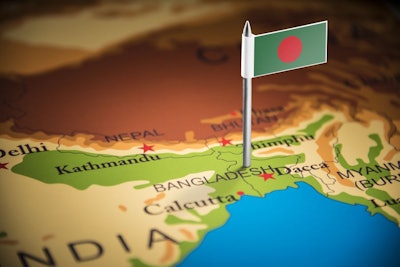 Livestock and dairy producers request government to take steps after recent price hikes
Livestock farmers in Bangladesh have asked the government to take steps to lower animal feed costs, as prices have recently spiked.
Members of the Bangladesh Dairy Farmers' Association (BDFA) said at a recent press briefing that the cost of feed has risen 31% in the past six months.
"We are at risk of closure in the face of soaring prices of feed," said Mohammad Shah Emran, general secretary of BDFA, in a Dhaka Tribune report. "As the prices of animal feed saw a sharp rise in recent time, the government should take steps to monitor the prices so that the importers cannot make the market unstable."
The BDFA has several demands for the government that its members say will lower the price of feed, production, and meat and milk in the country. Those demands include:
Initiatives that would keep animal feed prices at a reasonable rate
Banning meat imports
Providing free vaccines and medicines to dairy animals
Providing free treatment for animals
Increasing the import duty on bulk field milk by 100% by imposing an anti-dumping tax and 20 years of income tax rebates
Increasing the production of powdered milk in local factories
Providing bank loans to farmers on easy terms at low interest without collateral
Creating a board for dairy farmers from the government
If measures are not taken to reduce the cost of feed, Shahed Ayatullah Khan, joint secretary of Chittagong Dairy Farm Association, said some farmers may not be able to continue production.
"The farmers are already in a tight spot due to COVID-19 pandemic. The price hike of feed will create an additional pressure on the farmers," he said in a report. "In the long run, farmers will feel discouraged in rearing cattle and the country's self-sufficiency on meat and milk will be reduced."