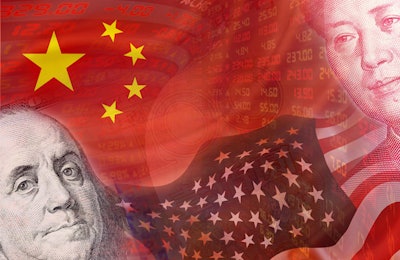 First phase of trade agreement includes suspension of planned new tariffs
China has agreed to buy up to $50 billion in U.S. farm products as part of a tentative trade deal between the two countries.
The "first phase" of a trade deal was announced by U.S. President Donald Trump on October 11. New tariffs on Chinese goods that were set to go into effect on October 15 were suspended as part of the deal, which is to be finalized in the next few weeks.
Reports say the increased purchases of U.S farm goods will occur over two years and will include pork, soybeans and wheat. In 2017, before the start of the trade war, China purchased approximately $24 billion worth of U.S. food and agricultural products.
U.S. grain markets started the week higher, with soybean futures leading the way, after the announcement.
Hope for end of trade war
In a statement on its website, the American Soybean Association (ASA) said it is "hopeful" the agreement signals a de-escalation of the U.S.-China trade war.
"While it is good news to hear the United States and China have reached a partial agreement in this conflict, ASA is still awaiting additional information on the initial agreement and the potential impact on U.S. soy growers," it said. "ASA remains hopeful this is a step toward rescinding the tariffs and helping restore certainty and stability to the soy industry."
Farmers for Free Trade was less optimistic in its statement.
"While we are pleased that tariffs aren't going up, this agreement seemingly does nothing to address the crippling tariffs farmers currently face," it said. "The promise of additional ag purchases is welcome news but details on timeline, price, commodities and many other questions will have to be answered. While the stock market may celebrate, farmers in Wisconsin, Minnesota, Texas and elsewhere will still wake up facing double-digit tariffs into one of America's largest export markets.
"Long-term, sustainable markets are what farmers actually need. From the very beginning of the trade war, farmers have been promised that their patience would be rewarded. To date, the deal they've been promised has not come. Today's news is a break in the clouds, but tariffs continue to cast a pall over the futures of farmers, ranchers and rural America. We hope both sides build on this progress to finally end the trade war."