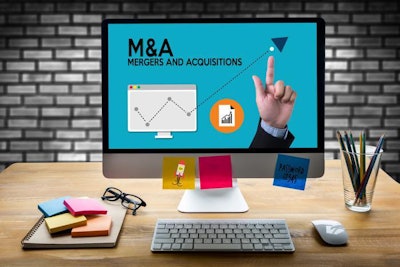 Find out about merger and acquisition activity in the poultry and animal feed industries in July.
---
Marel has agreed to acquire MAJA, a German food processing equipment manufacturer.
Ceres Global Ag Corp.'s wholly owned subsidiary, Riverland Ag Corp., has acquired 100 percent of the equity of Nature's Organic Grist L.L.C., a supplier of organic and ancient grains (including cereal grains, pulses and seeds), milled flours, and animal feed products.
A controlling stake in Asia's largest privately owned agribusiness company, Gold Coin Management Holdings Ltd., has been sold to Pilmico International Pte. Ltd., a unit of conglomerate Aboitiz Equity Ventures Inc., for $334 million.
Archer Daniels Midland Co. has reached an agreement to acquire Probiotics International Ltd.(PIL), a U.K.-based provider of probiotic supplements for human, pet and production-animal use.
Cherkizovo, a major Russian agro industrial group with leading positions in the poultry, pork, and meat processing markets, has signed a letter of intent to acquire Altaisky Broiler from fellow Russian company Prioskolie.
Highview Capital, LLC announced July 11 that it has completed the acquisition of specialized food service distributor Good Source Solutions ("Good Source" or "the Company") from Evergreen Pacific Partners.
On July 4, Royal De Heus signed an agreement for the acquisition of the Serbian compound feed plant Komponenta.
Marfrig Global Foods has received binding offers as it seeks to sell its Keystone Foods subsidiary, the company announced in a notice to the market on its website.
Brakebush Brothers has reached an agreement to acquire the House of Raeford cooked chicken plant in Mocksville, North Carolina, both companies confirmed.
ForFarmers has completed the purchase of 60 percent of shares in Polish animal feed company Tasomix.
ForFarmers has acquired the compound feed activities of Maatman veevoeders en kunstmest VOF, which is primarily active in the poultry sector but also in the ruminant sector in the Netherlands and Germany.
Archer Daniels Midland Co. has agreed to terms granting exclusivity in discussions to purchase Neovia, a global provider of value-added animal nutrition solutions, with 72 production facilities and a presence in 25 countries, headquartered in Saint-Nolff, Britanny, France.