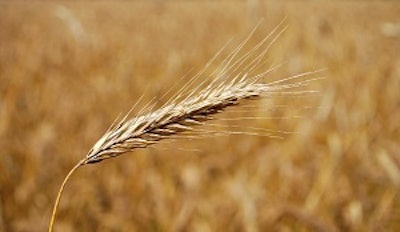 From WATTAgNet:
India's government is considering imposing a 10 percent import duty on wheat to curb shipments and liquidate poor-quality grains.
Currently, there is no import duty on wheat. Despite bumper domestic wheat crops in 2014-15, flour millers and private traders are importing wheat on lower global prices and lack of high-quality grains in the domestic markets.
Before the import duty would be imposed, the concerned ministry and departments must be consulted. If the duty is approved, it will help the domestic industry, which has been facing challenges associated with the excess stocks.
Earlier this month, reports said Indian flour millers and global trading companies had closed deals to import 500,000 tons of Australian wheat since March. This is the biggest amount in more than a decade, despite the surplus stocks in the country.
Millers first placed the orders in India's southern ports over concerns that February and March rains could cut wheat output, especially the high-protein varieties used to make pizzas and pasta. Attractive prices — $255 to $275 per ton — then prompted Cargill, Louis Dreyfus and Glencore to follow.
India, the world's second-largest producer and consumer of wheat, has large stockpiles of the grain after eight consecutive years of bumper harvests. This year's wheat output for India is estimated at about 90 million tons, which is 5 percent lower than in 2014, but still exceeding domestic demand of 72 million tons.
Government considers imposing 10% import duty on wheat
NEW DELHI: The government is considering imposing 10 per cent import duty on wheat to curb shipments and liquidate poor quality grains lying in FCI godowns. Imports are happening despite bumper domestic wheat output in the 2014-15 crop year and surplus stocks with the Food Corporation of India …