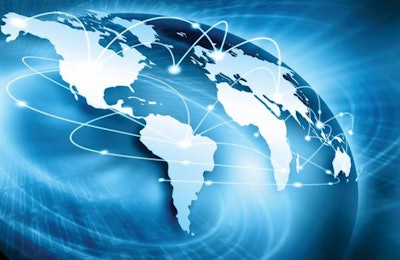 Alltech Global Feed Survey webinar addresses 6 trends that should be on the radar of all animal feed industry members as they will impact the global estimate for total feed tonnage.
The 2020 Alltech Global Feed Survey estimates that international feed tonnage decreased by 1.07% to 1.126 billion metric tons of feed produced last year. While the trends and challenges affecting livestock production and the associated feed industries may vary by region and species, African swine fever (ASF) had a huge impact.
During a webinar on January 27 presenting Alltech's 2020 Animal Feed Survey, a panel made up of industry members discussed six trends that should be on the radar of all animal feed industry members this year.
Mark Lyons, president and CEO of Alltech, moderated the panel discussion with industry members including Jack Bobo, CEO, Futurity, U.S.; Bianca Martins, general manager, Alltech, Mexico; Matthew Smith, vice president, Alltech, U.K.; and Brian Lawless, North American species manager, Alltech, U.S.
The six trends impacting the global feed market that the panelist discussed are:
ASF
Data shows that there was a 5.5% drop in Asia's total feed production as a result of ASF, Lyons said.
When analyzing feed consumption by species, of course, ASF again is the headline.
"Looking at an 11% decrease in pig feed production globally driven by ASF's impact in Asia," Lyons said. Other livestock species on feed are continuing to grow as a result of ASF minimizing pork production.
Broiler production still makes up most of the feed production; however, due to ASF, the gap between hogs and broilers is growing.
"We know that China had half of the world's pigs. They have lost 35% to 40% of those pigs. Places like Vietnam are equally or even more impacted and that massive drop in the Asia-Pacific region is down 26% in pig production," Lyons said.
Smith added that, despite this, the world still consumes more pork than it does poultry.
"I think that the events over the last 18 months are propelling us to that cross over point where the world will consume more poultry. The Food and Agriculture Organization told us that would happen sometime in the next 10 years, but I think we are going to hit that much more quickly," Smith said.
He noted that some of this may be attributed to some swine operations switching to poultry production and that smaller pig operations are having a harder time restocking. A resurgence of the pork industry may also take place as the focus is taken away from U.S. imports.
Martins added that biosecurity plans need to be analyzed to see what has worked in preventing ASF and how that information can be used to prevent something like this from happening again.
"ASF presents challenges, but also opportunity. When you think about the Chinese market, 98% of the farmers have 50 animals or less. So, when they come back – or if they come back – I think the industry is going to look very different than it does today. Many technologies, whether it's blockchain or other forms of automation that are being used in other parts of the world, there is this opportunity to move into that in China, Vietnam and other places and to leapfrog some of the technologies that were done in the U.S. and Europe, and I think that creates an opportunity for them to accelerate efficiency and productivity and other things that could lead to a stronger industry that more capable of handling the next shock because of ASF," Bobo said.
Geopolitical tensions
ASF has had a big global impact, but something that may have had an even bigger impact on U.S. producers was geopolitical tensions.
"The U.S. had an amazing pork industry ready to export to China, but that wasn't possible," Lyons said. However, this is likely to change as the U.S. and China have recently made new deals that the U.S. agriculture industry is expected to benefit from greatly.
"Export opportunities for countries like Denmark, Cambodia and the whole southeast Asia corridor, where businesses are closely linked to Chinese influences, the future will be about the size of the operations and that will be a challenge for some of those markets. The opportunity to export to the Russian market may be there though, however, that will come down to people being on the same page," Smith said.
Some have called Latin America the big winner in the export situation associated with ASF. Martins said Brazil is structured to export and move fast. However, she is also seeing much smaller countries in Latin America move fast to meet the demands of China.
"Countries that have never exported before are learning how to do that, and not just to China," Martins said.
The middle east saw an almost 6% decrease in feed production, which Lyons said could be attributed to geopolitical turmoil within the region.
Regulations and standards
Increased exports in some areas of the world are leading to more regulations and higher standards.
Latin America standards are being driven by export markets and opportunities, as well as the demand of the consumers within the Latin American markets, Martins said. She added that transparency between farmers and consumers is becoming a more popular demand, particularly in Mexico.
Asian consumers are demanding similar regulations and standards when it comes to transparency, but they are putting a much bigger emphasis on demands for food safety. India is seeing huge concerns in the level of aflatoxins passing into milk which is putting pressure on the feed industry to make sure that it is doing everything it can to mitigate risks.
Smith addressed Brexit, saying that he believes it will be interesting but that he cannot comment on where the future will lie.
However, he said, "at the moment, producers who are receiving subsidies for production may see an emphasis for change in the U.K. market where producers will be incentivized to look after the environment – obviously lots of upsides to that – but potentially the downside will be that it will limit the size and scope of businesses making them less competitive in huge export markets, mainly in mainland Europe."
The contrast between Asia growing larger farms and focusing on real efficiency and perceptions in Europe that smaller is better is very interesting, Lyons noted.
From a globalized market a lot of regulations and standards are less about good and bad and right and wrong, and more about choices and consequences, Bobo said.
"A government can choose to focus less on subsidies to farmers, which makes food cheaper for consumers and focus more on environmental factors which will protect the environment for consumers, but it increases the cost as well. In Europe, they are focusing on small, less intensive farms with fewer inputs but, as a result, that's part of what drives 70% of animal feed because it is imported into Europe. There are pretty dramatic consequences to that, and other countries have to meet those standards, exporting Europe's agriculture footprint to some of the most biodiverse countries on the planet," Bobo said.
Environment and sustainability
Regulations and standards have recently been driven by environmental issues and sustainability as we've seen in Europe. Smith said he believes this is the biggest systemic shift that farming and production in Europe has had to go through.
Bobo said that what may be sustainable in some countries may not be in other areas of the world.
"I think we sometimes miss what sustainability means. There are going to be trade-offs that we need to acknowledge and be aware of so that, as policies are being made, we can think about not only local consequences but also global consequences," Bobo said.
Smith said demands for sustainability will change the way producers raise protein.
However, he said, "it is our job as a feed industry to turn that conversation around into efficiency; efficient producers have the lowest footprint."
Lawless said companies have choices in the way they address sustainability and what direction they will go. He added that major companies like McDonald's, Costco, and Walmart have made big pushes in their pledges to sell sustainable products or be more sustainable in the way they operate.
"Farmers are producing more with less and I think that, as that message grows, it will resonate more with consumers," Lawless said.
Producers and agriculture industry members working with conservation organizations could help spread the message of the challenges farmers face and show how far they have come and that "producers are the solution to the problem, not the problem to be solved," said Bobo.
New technologies
Agriculture technology is a big area with lots of investment. Lawless said that, with any new idea, three things should be considered:
Is the new technology solving any sort of a real problem?
Do you have data that will make sense to the customer?
Who will pay for the technology?
Within the feed industry, it is important to figure out how each one of these questions affects the entire feed chain.
Martins said it is important to remember that technology can be confusing to the older generation of producers. Bringing together the technology programmer and the producer can help.
Companies should remember that the producer is not always the one benefiting from the technology; therefore, an incentive may be needed to get them to use it.
Changing consumer demands
Alternative proteins have been a very popular topic in the past year, leaving producers wondering if there will be a decline in feed production.
"The numbers tell the story. Between now and 2050 we are going to add maybe 3 billion people to the planet, but those people are going to be much better off financially, meaning they will demand a lot more protein. We are probably going to double protein demand in the next 30 years. If we have a $2 trillion protein industry by 2050, if these alternative proteins gathered 100% of that growth. it wouldn't have an impact on anyone today." Bobo said.
He added that alternative proteins won't grow fast enough to be a trillion-dollar industry in just 30 years and those livestock producers shouldn't be questioning how fast the livestock industry will decline but rather at what rate it will continue to increase.
Bobo said he believes plant-based will continue to grow but that key factors like taste and cost will take priority. Companies that sell plant-based proteins will need an extra incentive to sell their product.
Smith added that he believes people may use alternative proteins because they're curious, but he doesn't believe it will completely replace their use of livestock products. He concluded his thoughts by saying when you consider nutritional value and cost to that of alternative products, the traditional livestock product wins, hands down.
Martins added that, in her region, incomes are increasing, and people are eating more but that does not mean that they are eating healthier. She added that clarity is needed in the health food markets.