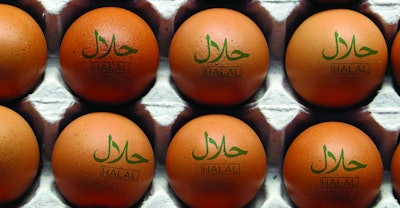 As Muslim populations shift across Eurasia, the demand for halal meats and feed is growing.
Over the past several years, halal feed has significantly expanded its global presence, strengthening positions outside the Muslim world — and this trend is very likely to continue.
Muslims account for approximately 25% of the total population worldwide in 2010 and remain to be the only major religious group projected to grow faster than the global population as a whole. As a consequence, there is a growing market for halal products. Halal foods had a global market value of approximately US$1.4 trillion in 2017 and are expected to reach US$2.6 trillion in 2023, according to Statista.
In another study, conducted by Coherent Market Insights, the global halal food market was valued at US$715 billion in 2018 and is projected to exhibit a CAGR of 12.7% between 2019 and 2027 in terms of revenue.
Halal is Arabic for permissible. Halal food is that which adheres to Islamic law, as defined in the Koran — and the rules apply to halal feed.
Halal feed production
Halal feed production is governed by a list of prohibited ingredients. For example, meat-and-bone meal is prohibited and replaced with soybean meal in halal poultry feed, notes Andrey Dalnov, senior analyst for the largest Russian meat producer Cherkizovo.
Antibiotics, growth promoters and some feed additives are also not allowed.
Grains used in the halal feed must not be manufactured by anything defined as haram or prohibited. One of the most important requirements is that none of the products contain pork DNA.
"Since some specific production regulations and practices in different countries may vary, each country has [its] own set of halal requirements," explains Albert Davleyev, president of the Russian consulting agency Agrifood Strategies. "For example, the absolute majority of halal producing countries prohibit [the] use of animal protein in feeds. However, some countries allow them if they are [not] 'haram,' for example, not produced from pigs or dead birds or animals."
Meanwhile, some countries strictly prohibit the use of genetically modified organisms (GMOs) in halal feed, "but major poultry producers — the US, Brazil, Argentina, most European countries — widely use GM soy and corn, but [feed producers] would refuse to include them in recipes if their customers require it," Davleyev adds.
Steering clear of conventional food production
Whether they are living in the European Union, Russia, Asia or Arabia Peninsula, most Muslims trying to avoid purchasing conventional food and this applies to all farmed species.
"Nowadays, a farmer could grow fish in a small pond and feed it with the pork waste," says Camille Hazrat Samigullin, mufti of the Tatarstan Republic in Russia. "What would we say about this fish if it had not ever eaten anything halal?"
Halal certification is widely used in Russia, a country where the main religion is Orthodox Christianity. Almost half of poultry manufacturers obtained a certificate of compliance with halal standards, beginning producing halal poultry, alongside the conventional products. There are also companies that fully switched to producing halal food.
For example, St. Petersburg poultry farm Udarnik began producing solely halal poultry in 2016 after a market survey showed a tight supply of halal poultry in St. Petersburg, explains Alexander Batuev, Udarnik's commercial director.
The demand for halal products in St. Petersburg is growing by 30% to 40% per year, and the number of stores selling halal food in the city is also rapidly growing, says Khakimzov Khaziev, commercial director of the Russian restaurant operator Ansat.
Changing demographic in the EU, quality crisis in the EEU
To a large extent, the upcoming growth in demand for halal products should be recorded in the historically Christian regions, including among the consumers not considering themselves as Muslims.
"An increasing number of refugees from Syria and other predominantly Muslim countries are moving to Europe, due to which the Muslim population is increasing in the region," Coherent Market Insights' research shows.
Several supermarkets and hypermarket stores, including Tesco in the U.K. and Carrefour in France, have dedicated halal sections in their stores. Moreover, Tesco, through its Malaysia-based subsidiary, entered into a contract with Nestlé Malaysia to supply halal-certified products at the Tesco stores in the U.K. and is actively collaborating with halal food suppliers such as Ummah Foods Ltd. to strengthen its foothold in the global market.
A study from the Washington-based Pew Research Center suggests that the share of the Muslim population in the EU could grow from 4.9% in 2016 to as much as 14% by 2050. The Muslim share of Germany's population could grow from 6.1% in 2016 to 19.7% in 2050 if high migration continues.
On the other hand, there are still regions where the growth in demand for halal food and feed is not seen and is not anticipated. For example, in Poland, the share of Muslims is projected to grow from 0.1% in 2016 to 0.2% in 2050, clearly not enough to stimulate some growth for halal feed products on the domestic market.
In the Eurasian Economic Union (EEU) — the eastern trade block composed of Russia, Belarus, Armenia, Kazakhstan and Kyrgyzstan —, to some extent, the rapid growth in demand for halal products could be attributed to what is described as "the crisis of consumer trust."
"In Russia, halal meat is purchased not only by Muslims, since it is generally perceived as clean," says Lyubov Savkina, commercial director of the Russian consulting agency Feedlot.
"The targeted audience is Muslims and people who are not directly related to Islam but seeking to buy products produced with special attention or additional control. But in the latter case, more and more 'secular' brands are fighting for the consumer," Dalnov adds.
Over a half of poultry and almost all sheep slaughter and processing plants in Russia has halal certificates from international certifiers such as GAG, JAC and ESMA, according to Davleyev.
"For the last 15 years, the share of halal poultry in local retail has grown from 1 to 2% to almost 25%," Davleyev explains. "In some regions of Russia — especially in the South and the Volga regions, where the Muslim population is predominant —, more than 50% of all food in retail is halal. Some poultry plants located in Tartarstan and the Northern Caucasus supply only halal products. However, Muslims, who make about 13% of the country's population, make less than half of the total number of halal food buyers."
There are no certain statistics on the production on halal feed, but it is believed that it is growing by 10 to 15% in the EEU and at a similar pace in the EU.
A matter of feed costs
Feeding animals with halal feed is believed to be rather expensive, but under the right management, this is not the case.
"Depending on the conjuncture of certain markets, the price difference between meat-and-bone meal and soybean meal could be around 50%. Yet, the share of meat-and-bone meal in feed commonly is low and limited to only 5%," Dalnov explains, adding that, when it comes to halal poultry, there is a price difference of final products, but it is not related to feed.
"In the countries of the Arabian Peninsula, they are accustomed to the weight of broiler carcass of 0.9 to 1.2 kg. When growing poultry for export, the producer has to cut weight, which leads to growing conversion ratio and increasing production costs per kilogram of production," he says.
Cherkizovo is currently working on adjusting production costs, Dalnov added. The company is currently building a soybean crushing plant in Lipetsk Oblast, Russia, with the designed production performance of 2,500 tons per day. In the future, the company targets to become self-sufficient in soybean meal.