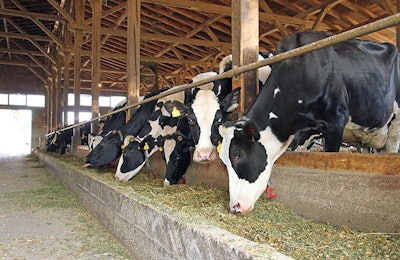 In a joint venture with DLG of Denmark, India's Prabhat Dairy is setting up a separate animal nutrition business for the first time.
For some time, the Mumbai-based dairy firm has been selling cattle feeds to farmers under the Annapurna brand name. The new move aims to take advantage of the experience of the Prabhat Dairy and its new partner to enter the growing animal feed market in India, reports The Economic Times.
This week, Prabhat Dairy and DLG are reported to have signed a joint venture agreement that will give a boost to the new business venture.
In the initial pilot phase, two of DLG's products — one for lactating cows and one for dry cows — will be shipped from Denmark and tested on 150 selected farms. If improvements are seen in the health of the cows and the yields and quality of the milk, a commercial launch is planned this year.
According to Prabhat Dairy's joint managing director, Vivek Nirmal, the livestock feed sector is forecast to be worth $30 billion by 2020.
Prabhat Dairy was founded 15 years ago as an integrated producer of milk and dairy products, selling into institutional and retail channels.
With estimated output of around 177 million metric tons in 2017-18, India has become the world's leading milk producer, according to Nirmal in the firm's latest newsletter. The total dairy market has been valued at INR5 trillion rupees (US$70.8 billion).
Market growth is expected to continue, supported by the expanding urban population, rising disposable incomes, health-consciousness, and the high proportion of vegetarians in India.
Prabhat Dairy has undertaken a mission to improve the yield and quality of the milk produced in the local area, Maharashtra state. Aim is to support farmers in the area to produce milk to qualify for the subsidies recently introduced by the state government. The company's mission includes strengthening the supply of quality cattle feed to support the needed improvements in milk production and quality.
Two years ago, the CEO of DLG, Kristian Hundebøll, announced that the firm was looking for opportunities to expand its agribusiness in India, among other regions.
Among one of the largest agricultural companies in Europe, DLG is among the Top 10 European animal feed producers. It has operations in 18 countries, with subsidiaries in Germany, Poland, Sweden and the Baltic states.