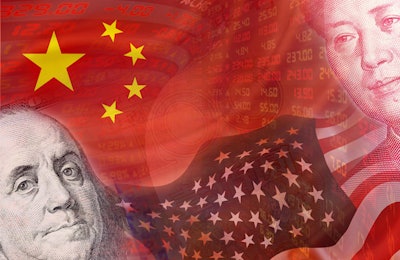 Editor's note: This is the first in a series on tariffs and the trade dispute between U.S. and China that began in early 2018.
The United States and China have been involved in a trade dispute for most of 2018. The so-called trade war did not directly affect agriculture until April, when China proposed a 25 percent levy on 106 U.S. product imports worth $50 billion, including many agricultural commodities.
So, how and why did the dispute start?
U.S. President Donald Trump began imposing tariffs to fulfill a campaign promise as a "response to unfair trade practices of China over the years," including alleged theft of intellectual property.
In January, Trump placed a 30 percent tariff on foreign solar panels and washing machines. In March, he asked the U.S. Trade Representative (USTR) to investigate applying tariffs on $60 billion worth of Chinese goods. The USTR came up with 1,300 Chinese products to which it wanted to apply tariffs – mostly medical devices, aircraft parts, batteries, auto parts, weapons and metals – but also veterinary vaccines, agricultural and dairy equipment, and poultry housing.
China's retaliation of that action on April 2 directly affected U.S. agriculture. Among the items China included in its list were U.S. grains and feedstuffs, such as yellow and black soybean, corn, corn flour, durum wheat, wheat and mixed wheat, brewing or distilling dregs and waste, sorghum, uncombed cotton and cotton linters. The list also included pork and beef products, among others. This sparked threats of tariff action back and forth between the two countries, and the White House on May 29 said it would impose a 25 percent tariff on $50 billion worth of Chinese products, to be named on June 15.
On June 15, the White House said $34 billion of those tariffs would start on July 6, and another $16 billion at a later date. In response, China said it would impose tariffs on U.S. imports beginning July 6; the U.S. then said it would impose a 10 percent tariff on an additional $200 billion worth of Chinese goods, and China retaliated in less than 24 hours, again targeting more agricultural commodities.
On August 8, the USTR published a list of 279 Chinese items worth $16 billion that would be subject to a 25 percent tariff beginning August 23. China responded in kind.
On September 17, the U.S. announced the previously threatened 10 percent tariff on $200 billion worth of Chinese goods would begin on September 24 and increase to 25 percent by the end of the year. This announcement came with an additional threat of more tariffs if China retaliated – and it did so on September 18, with new tariffs on items, including meat products and wheat, to take effect September 24.
Retaliatory tariffs from Canada, Mexico, EU
When the U.S. imposed tariffs on steel and aluminum in March, it exempted Canada and Mexico until May 1, when it granted another 30-day extension. But on May 31, when the U.S. moved forward with steel tariffs on Canada, Mexico and the European Union, Canada announced retaliatory tariffs on $16 billion worth of U.S. products, and Mexico and the EU each placed tariffs totaling $3 billion on products including agricultural commodities.
The U.S., Canada and Mexico have since reached a trilateral trade deal to replace the North American Free Trade Agreement (NAFTA).