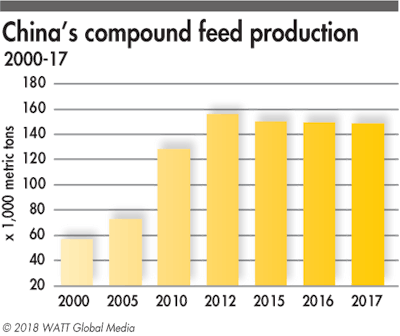 World compound animal and aquaculture feed production increased nearly two percent in 2017, to 910,000 million metric tons compared with 2016, according to Feed Strategy magazine's World Feed Panorama 2018.
Continuing to represent 34 percent of the world's compound feed production, the Asia-Pacific region is home to 9 of the top 25 feed-producing countries in the world.
China is the world's second largest compound feed producer as well as the largest pork producer and consumer. The pork sector grew almost 9 percent. China is also the world's largest aquaculture producer, growing 4.5 percent in 2017. However, due to highly pathogenic avian influenza (HPAI), chicken meat production decreased by 6 percent. Added all up, China experienced a 0.5 percent drop in compound feed production compared with 2016.
India has continued to grow in feed production, up 5 percent from 2016, rising to the fourth spot of world compound feed production. According to the U.S. Department of Agriculture (USDA), commercial dairy demand for feed rose 15 percent, with poultry feed increasing more than 4.5 percent.
Despite USDA reports that feed demand in Vietnam fell by 15 percent in 2017, the decline was in homemade animal feed, not in manufactured compound feed, a sector which grew 4.5 percent in 2017. Poultry and pig feed grew by 3.5 percent, while aquaculture feed increased an impressive 10 percent.
Due primarily to the HPAI outbreak in South Korea and a decline in cattle feed, national compound feed production fell by 4.5 percent in 2017. The one bright spot for Korea was the demand for swine feed, which rose more than 3.5 percent in 2017.
Japan's compound feed production rose 1 percent from 2016, retaining its spot as the world's eighth top producer. There was a decline in dairy cattle feed, but small increases in the rest of the nation's livestock and poultry sectors.
Thailand's compound feed production rose nearly 5.5 percent in 2017. Thai chicken meat production grew nearly 3 percent, as swine production slightly declined. Although small, the Thai aquaculture sector grew dramatically on the strength of a 25 percent increase in shrimp feed production.