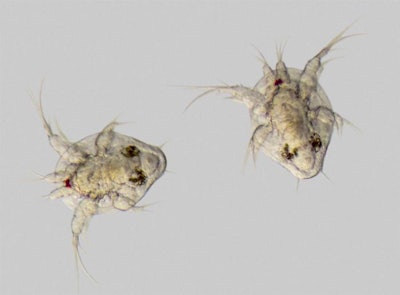 With a growing global population, aquaculture is becoming more and more important.
A key problem in the growth of aquaculture is getting immature fish through the early stages of life. Even established species like sea bream and sea bass have a low survival rate of only 25 percent; for other species it is even lower.
A project in the European Union may be able to resolve this issue.
According to the EU Community Research and Development Information Service (CORDIS), "The natural first feed for most fish larvae is crustacean nauplii (larvae). Fish larvae is evolutionary adapted to such a diet, and it is believed that this type of prey fulfills the fish larva's nutritional requirements."
Planktonic AS, the company in charge of the CryoPlankton2 project, has developed methods to cryopreserve marine crustacean nauplii, CryoProduct, and revive them live after thawing.
"Our overall vision was to upscale, pilot and commercialize the innovative CryoPlankton production process for cryopreserved marine crustacean nauplii. This can replace conventional live feeds used at marine hatcheries," said lead researcher Dr. Nils Egil Tokle of Planktonic AS in a CORDIS article.
There is a vulnerable period during which larvae consume live feed that could be greatly reduced in comparison to the time needed when the fish juveniles exist on diets commonly used at marine hatcheries, the article said. Using the cryopreservation method, researchers were able to reduce deformities. This may increase survival in the early stages of life.
Aquaculture at a global level
In 2016, aquaculture production reached 80 million metric tons (mmt), according to the latest report, The State of the World Fisheries and Aquaculture 2018, from the United Nations' Food and Agriculture Organization (FAO). China is the global leader in aquaculture production.
FAO estimates that, by 2030, total output will increase by 18 percent to reach 201 mmt.
Of all aquafeed production, 31 percent is used for carp production, with the other largest species groups being tilapia (17 percent), shrimp (15 percent), catfish (11 percent) and salmon (7 percent), according to the FAO's estimates.
The United States and other countries are also looking at ways to expand aquaculture performance.