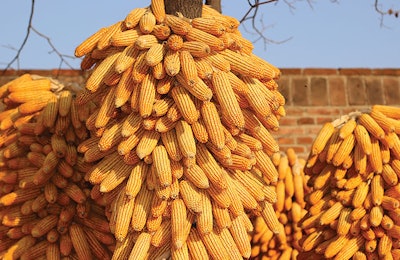 Corn and fruit waste products are being investigated for feeding dairy cows in Punjab province in the north of Pakistan.
Supplies of fodder suitable for cattle become scarce in Pakistan's northern province of Punjab, especially during the rainy season, leading to falling milk yields, but the local dairy industry support group is now investigating the potential of crop and fruit waste products as alternative feed ingredients to help maintain production levels.
Until now, the utilization of materials such as mango seeds and corn cobs to feed dairy cows has been limited, mainly due to the practical difficulties of collecting these products from multiple locations. However, they are abundant throughout the country, according to Dr. Masood Parvez, a consultant with the Punjab Livestock and Dairy Development Board (PLDDB).
The materials could also represent a useful diversification in feed ingredient options, he told Express Tribune.
In Punjab province alone, 320,000 tons of mango are processed for pulp production, almost half of which comprises the skin and seeds. It would be feasible and economic to collect these waste materials from the processing facilities.
Researchers at the PLDDB have also been looking at corn cobs as a dairy feed.
Behind wheat and rice, corn is the third most cultivated grain crop in Pakistan, so supplies of the cobs are widely available, according to Dr. Wasi Muhammad, a senior manager at PLDDB. Currently, the cobs are mainly used to heat brick kilns, he said, so environmental pollution would be reduced if they could be used as a feed ingredient. He estimates that six million tons of corn cobs are produced in Pakistan each year.
Corn has become an important crop in the province of Punjab in recent years, according to The Nation, with the area under its cultivation doubling between 1995 and 2015. Improved varieties and growing techniques have also greatly increased yields. Corn constitutes the basis of feeds for the country's poultry industry, which provides cheap and good-quality protein for the population.
The PLDDB is a nonprofit organization that aims to develop the livestock and dairy sectors in Punjab province, supporting large and small farmers to utilize modern technology and infrastructure to increase the productivity of their animals. The board has a program to use biotechnological methods to treat crushed corn cobs to provide a cheap fiber source that can be fed with concentrates to large and small ruminants.
In neighboring India, construction is scheduled to begin shortly on the first cattle feed production facility in the state of Punjab to use another coproduct, rice straw, as a raw material.
Other agricultural uses of corn cobs include as a bedding material for poultry.