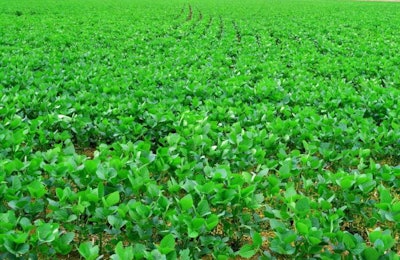 After what felt like a never-ending winter in some parts of the country, and an unforgiving spring, corn and soybean farmers across the U.S. are actually right on target or ahead of the four-year-average, according to the latest crop progress report.
Corn
The U.S. corn crop is 81 percent planted, which is right at the four-year-average. Wisconsin, Michigan and Pennsylvania are struggling to get in the fields this season with less than 56 percent of the crop in each state planted.
Kansas and Kentucky are about 50 percent completion of corn planting.
Illinois and Missouri farmers are leading the nation with 96 percent of their corn planted. Iowa and Minnesota farmers have had good luck as their total planted area increased by more than 20 percent in the last week.
Soybeans
The U.S. soybean crop progress is up 6 percent from 2017 and 12 percent over the four-year average of 44 percent.
Illinois, Arkansas, Louisiana and Mississippi farmers report that they have more than 80 percent of their bean crop in, while Michigan and Wisconsin continue to struggle with only 33 percent (Wisconsin) and 29 percent (Michigan) planted.
Other crops
In Idaho, Minnesota and North Dakota, the amount of barley planted is ahead of the states' previous four-year average.
Texas has 100 percent of their oats planted, while North Dakota and Wisconsin have less than 67 percent of their total oat crop planted.
Idaho and Washington reported 94 percent or more of their spring wheat planted.
Continued weather delays
Western Michigan farmers are still struggling to get in the fields and finish planting with record rainfalls reported over the last week. "There were 3.3 days suitable for fieldwork in Michigan during the week ending May 20," Marlo Johnson, director of the Great Lakes Regional Office of the National Agricultural Statistics Service said in a USDA Michigan crop weather report.
In Wisconsin, there were only 2.6 days suitable for fieldwork for the week ending May 21, 2017, according to the USDA's National Agricultural Statistics Service. Fieldwork was slowed by heavy rain and severe thunderstorms as part of the state got up to 12 inches of rain.
The week ending May 20 was also not ideal for Pennsylvania row crop farmers, with an average of 1.5 days suitable for field work. Temperatures were reported with a high of 90 degrees Fahrenheit, a low of 32 degrees Fahrenheit and a state average temperature of 63 degrees Fahrenheit. Abundant rainfall throughout the state with severe hail in some areas severely limited field activities for various crops.