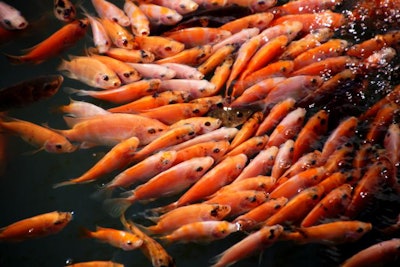 As the global leader in the manufacture and supply of aquaculture feeds, Skretting has long supported aquaculture markets across Africa, ensuring the consistent availability of high-quality fish feed products to local producers. This commitment has been reinforced with the opening of dedicated fish feed plants in key strategic locations as well as through the expansion of feed exports across the continent and beyond.
Because the strategy of Skretting and parent company Nutreco is to expedite progress in protein value chains by providing customers with innovative and sustainable nutritional solutions as well as the technical know-how to best apply this knowledge, Nutreco has completed the transaction through which it assumes 100 percent ownership of Skretting Nigeria.
For the past three years, Skretting Nigeria has been a joint venture with the shareholders of local fish farming operation Durante.
"While Nigeria has endured some economic challenges in the last couple of years, we believe that with Skretting Nigeria becoming wholly owned by Nutreco, the market will have the further reassurance that we are committed to the development of the Nigerian aquaculture industry," said Rob Kiers, managing director of Skretting Africa.
With an extremely fast-growing population that is already in excess of 180 million people and a tradition of eating fish, Nigeria is a market that is widely recognized as offering considerable potential for aquaculture growth. Furthermore, the Nigerian government has increased its support of the industry in recent years by reducing the importation of frozen fish into the country. Together, these circumstances have encouraged farmers to ramp up their production and diversify from culturally important catfish farming into producing tilapia.
To aid the West African country's advancement, Skretting has built a strong foothold in the market over the past 12 years, principally by helping local producers overcome the industry's major challenge of securing access to the high-quality feeds that will allow fish farmers fish to get their products to the size that consumers want. Some three years ago, this commitment was further augmented through the establishment of the Skretting Nigeria fish feed business and a new feed plant in Ibadan.
"It was always Skretting's intention to establish a fish feed plant in Nigeria," said Seyi Adeleke-Ige, general manager of Skretting Nigeria. "We wanted to produce the feeds here in Nigeria so that they would be readily available to local farmers. That has been the focus of Skretting Nigeria over the past three years and the five-fold increase in our production in that time to more than 20,000 tons shows that it was the correct strategy."
"Today, the market is growing quickly and that is attracting a lot of investors to the industry to further expand fish production. Together with the Nigerian government's stated ambition for the country to be more self-sufficient in its fish consumption, Nigeria is perfectly placed to grow as an aquaculture nation," she said.
Alongside, its growing fish feed operations, Skretting Nigeria has also successfully introduced an agri-feed business for poultry.
Complete ownership of Skretting Nigeria and the full integration into the Skretting organization will be accompanied by a new strategy focusing on growth through technical sales and support. This will be supported by the construction of a new factory, also in the Ibadan region, as well as the creation of a Skretting School of Excellence, which will help develop the local industry by introducing producers to solutions and innovations, including Skretting's LifeStart concept, which focuses on specific hatchery and nursery nutrition for juvenile fish and broodstock.
"This is a very important stage in the development of Nigerian aquaculture. The industry's strong entrepreneurial spirit and desire to succeed leads us to be very optimistic about its future," Kiers said.