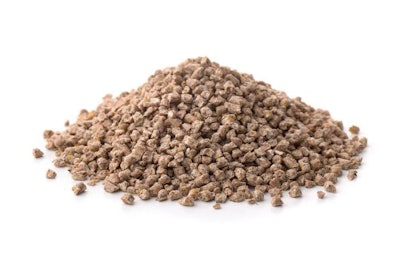 The meat and livestock feed division of Russia-based RusAgro Group achieved a 15 percent increase in revenue in 2017, but it was the only one of the group's four business units to turn in a better performance than the previous year.
Strong performance by this business unit — which includes live pig production, pork processing and compound feed — helped offset the losses recorded by the other divisions of RusAgro Group (also known as Ros Agro Group and RusAGRO PLC), according to its provisional trading report for the 2017 fiscal year.
Overall revenue for the meat business amounted to more than RUB20.51 billion (US$361 million) last year. In 2016, the figure was RUB17.85 billion.
In 2017, production volumes for that part of the business were up 6 percent for livestock to 206,000 metric tons, and 603,000 metric tons of feed were produced — an increase of 1 percent from the previous year.
Sales volumes for the meat business reflect a shift in the firm's strategy from live animals (-24 percent) and carcasses (-3 percent) to cuts (+64 percent) and other meat products (+102 percent). Output in the latter two categories rose to 69,000 metric tons and 13,000 metric tons, respectively, in 2017.
Average sale prices for livestock were 4 percent higher in 2017 than in the previous year, while other meat categories were largely unchanged.
Performance by other sectors of RusAgro's portfolio of businesses in 2017 was down compared with the previous year — by 19 percent for sugar, 11 percent in agriculture, and 2 percent for oils and fats.
RusAgro Group was founded in 1995 as a sugar importer and has since grown to become the largest integrated agricultural holding company in Russia, according to the firm's website. From its headquarters in Moscow, the group has diversified into meat, arable, and oils and fats.
Two subsidiaries are listed for the group's meat division—Tambovsky Bacon and Far East Project. Set up in 2005, Tambovsky Bacon comprises vertically integrated pork businesses in Belgorod and the Tambov region, including three animal feed mills with a total capacity of 90 tons per hour. With an eye to exporting pig meat to China, Japan and South Korea, construction of RusAgro's Far East project began in 2016 and production is scheduled for completion next year. Its feed mill will have an annual capacity of 300,000 metric tons.
In 2015, RusAgro Group announced its intention to enter the poultry meat sector by acquiring Uralbroiler Group of Cos. Later that year, RusAgro announced that the two firms were unable to reach agreement, and that it had dropped its acquisition plan.