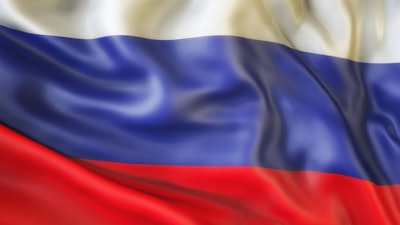 Russia saw the largest regional growth in animal feed production in 2017, according to Alltech's 2018 Global Feed Survey. Africa also has seen rapid growth in recent years, the survey found.
With 19 percent growth in the past year, Russia jumped from the seventh largest feed-producing region a year ago to the fourth this year.
"Russia has been the story for us this year. … There is a desire, clearly, from President Putin to focus increasingly on self-sufficiency and he wants to see that in broilers, eggs, milk and pork, and to replace imports with more and more local production," said Aidan Connolly, Alltech's chief innovation officer and vice president, corporate accounts, who presented the survey findings.
Alltech said Russia has 569 feed mills that produced 37.6 million metric tons of animal feed in 2017. Russia's feed production for all major animal species was up.
"Russian growth was from all species, but in particular we saw very large growth in the production of feed for pigs and for dairy," Connolly said.
Pig feed production in Russia was up almost 50 percent from a year ago, compared with a 5.5 percent average growth globally. Alltech attributed this to the ability to capture more data from smaller, private feed mills coming into the survey for the first time.
Africa 'on the fast track'
Animal feed production growth in Africa was up 29 percent between 2012 and 2017, compared with global growth of 13 percent during the same period, according to the survey results.
"Africa is very much on the fast track … and it has grown strongly across all species," Connolly said.
Africa produced 39.1 million metric tons of feed last year – more than the Middle East, but less than all other regions globally.
The continent's beef and aquaculture feed production were down in 2017, but pig, dairy, layer, broiler, pet and horse feed were all up. The segment that saw the largest growth was layers, at 11 percent, followed by dairy and broilers at 10 percent.
While Africa represents a very small percentage of the total amount of pig feed produced around the world, Kenya, Tanzania, Mozambique, Uganda and Namibia all saw growth in pig feed production. Aquaculture feed production in Africa was down slightly, as the segment saw little growth worldwide. The region produced 1.5 million metrics tons of aquafeed in 2017.
Global dairy feed production was up 3 percent but, regionally, Africa saw the strongest growth in the segment at 10 percent. Similarly, Africa was the fastest-growing region for broiler feed production at 10 percent, compared with global growth of 3 percent.
This suggests that "economically, that continent is doing very well and starting to produce more and more of its own meat," Connolly said. "Africa is on course to produce more and more of its own animal proteins for its own consumption."