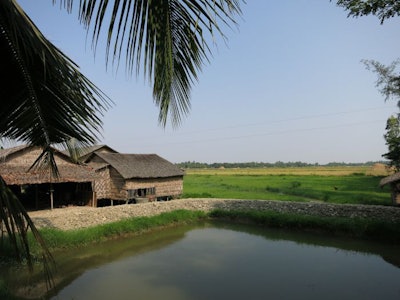 WorldFish and the International Rice Research Institute (IRRI) will join forces with Myanmar Ministry of Agriculture, Livestock and Irrigation to improve the productivity, profitability and development outcomes of rice-fish systems in Myanmar.
The Australian Centre for International Agricultural Research (ACIAR)-funded project, Development of rice fish systems in the Ayeyarwady Delta, Myanmar, brings the skills and knowledge of rice and fish scientists together to adopt a more integrated approach to improving the benefits for farmers and fishers from the rice fish system as a whole.
Rice-fish systems are diverse, spanning capture fisheries and aquaculture, with fish and rice growing concurrently in rice fields and canals or, alternatively, fish raised between rice crops. The systems are common in many South and Southeast Asian countries as well as in some areas of Africa.
WorldFish has developed several approaches to increasing fish production and productivity in rice-fish systems. In northwest Bangladesh, culturing carp species and mola in homestead ponds connected to rice fields led to a 3.5-fold increase in total fish production compared with stand-alone ponds, as well as a higher nutritional quality of the production. In Cambodia, improved governance and management of community fish refuges have led to increased fish production and fish species diversity in the surrounding flooded rice fields, resulting in increased fish consumption in the communities.
"This new strategic alliance, cemented today with the signing of a memorandum of agreement (MoA) will aim to align management of rice and fish systems, which in Myanmar, have been previously been managed independently. The work will play an important role in developing global learning on rice-fish systems under the CGIAR Research Programs of FISH and RICE," said Michael Phillips, director of science and aquaculture, WorldFish and program director, FISH.
"This joint research initiative will support the Ministry's goals by providing an evidence base for informed decision-making and policy development and building local farming and scientific capacity." said Grant Singleton, IRRI principal scientist and program leader of the ACIAR-funded MYRice project. "Further, it is a demonstration of IRRI's commitment to deliver tailor-made, efficient solutions that address the specific needs of the partners and countries we work with."
Since 1965, IRRI has been working with the Myanmar government to improve the country's rice sector by developing modern rice varieties and best rice production practices. Recent surveys of IRRI's MYRice farmer beneficiaries have shown an increase of 20 percent in yield and 30 percent in income.
IRRI has ongoing initiatives in the major rice-producing areas in Myanmar: providing small farmers with better access to rice varieties that can cope with the effects of climate change; building the capacity of farmers and agricultural researchers and extension staff to become sustainable, self-sufficient and resilient; and enhancing grain quality and farm productivity.
Mostly focused on the Ayeyarwady delta, the rice-fish project will benefit small-scale rice farming households, and fishers, through diversification of production, enhanced resilience and delivering increased farmer incomes, improved food and nutrition security and enhanced gender equity.