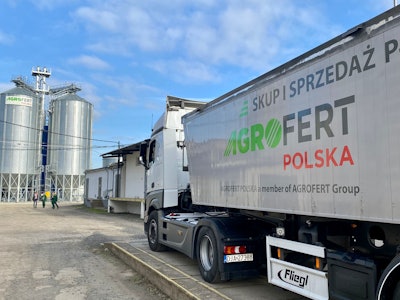 Courtesy Agrofert Polska
Agrofert Polska has opened a new investment at the Lwówek Ślaski site. The total investment amount was PLN10.7 million (US$2.5 million).
The new drying and storage facility in Lwówek can hold more than 6,000 metric tons of commodities. The storage capacity of the site will double, and the new drying plant will enable the new processing of corn.
Agrofert Polska Sp. z o.o., based in Cieszyn, was established in 2010 and predominantly deals with the purchase and sale of agricultural products, agricultural components, fertilizers, plant protection products and seed material.
Since 2021, it has also been engaged in the sale and distribution of AdBlue and, in 2022, it expanded its operations with a new division dedicated to comprehensive services for investments in agriculture, especially in livestock and renewable energy.
The company's goal is to provide comprehensive agricultural services and deliver products of the highest standard.