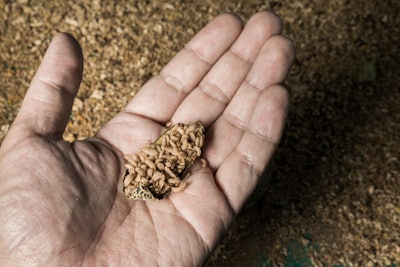 TARAPONG PATTAMACHAIYANT
Tyson Foods has entered a partnership with Dutch company Protix to build an insect ingredient facility in the U.S., taking advantage of the growing popularity of insect proteins in poultry and livestock feed.
"Our partnership with Protix represents the latest strategic investment by Tyson Foods in groundbreaking solutions that drive added value to Tyson Foods' business," said John R. Tyson, chief financial officer of Tyson Foods.
"The insect lifecycle provides the opportunity for full circularity within our value chain, strengthening our commitment to building a more sustainable food system for the future."
Once completed, the insect ingredient facility will be the first of its kind to upcycle food manufacturing byproducts into insect proteins and lipids for use in pet, aquaculture and livestock feed.
Kees Aarts, CEO of Protix, added: "We are very excited to announce the next step in our international growth strategy. Tyson Foods' and Protix's strategic partnership advances our joint work towards creating high-quality, more sustainable protein using innovative technology and solutions. Moreover, we can immediately use their existing byproducts as feedstock for our insects. This agreement is a major milestone for Protix and significantly accelerates our ambition to grow through international partnerships."
As a part of the strategic investment, Tyson will acquire a minority ownership in the insect ingredient start up.
Insect proteins in poultry, livestock feed
In the wild, poultry will naturally eat insects, considered to be a protein-rich food source high in energy such as lauric acid, a C-12 saturated fatty acid with demonstrated value-added, antimicrobial and antibacterial properties. The short lifecycles of insects – typically less than 50 days – and ability to thrive on a variety of feedstocks make it an easy protein source to produce.
The use of insects to bioconvert by-products from other food production, like food waste, manure and other agricultural waste streams, could potentially minimize waste and upcycle nutrients, improving the sustainability of the poultry supply chain.
In addition, insects can be bred in significant numbers in large-scale factory conditions that require a smaller environmental footprint than soybean meal and fishmeal with reduced land and water use and waste and pollution emissions. Insect protein production occurs in a circular system, helping to close water, nutrient and carbon cycles.