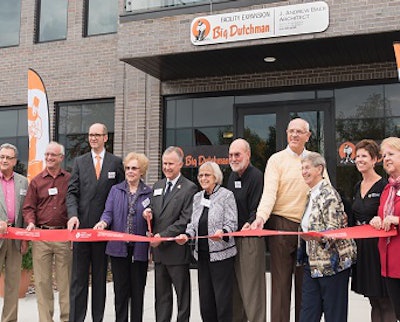 Increasing growth and strong sales of modern pig and poultry equipment in North and South America has made it necessary for Big Dutchman USA to expand its headquarter operation in Holland, Michigan.
The new two story building adds 12,000 square feet to the existing facility, doubling office space for Big Dutchman's 138 employees. A new show room features innovative and future-oriented equipment and computer technology for the pig and poultry industry.
At the ceremonial building inauguration on October 15, Holland's Chamber of Commerce and many guests witnessed the official cutting of the ribbon by Clovis Rayzel, president of Big Dutchman USA. Bernd Meerpohl, chairman of the board of management, delivered compliments and a special message of thanks to the successful American team. Clovis Rayzel proudly stated that "this investment will help us better serve our rapidly growing business in the U.S., Canada and Latin America".
Big Dutchman is an industry leader in the development and sales of automatic feeding, housing and ventilation systems for pig and poultry management. Big Dutchman USA was established in the Holland/Zeeland, Michigan area in 1938 by the Dutch immigrant brothers Richard and Jack DeWitt. Their pioneer work led to the marketing of the world's first automatic feeding machine for commercial poultry production. A restored antique "Champion" chain feeder is now on display in the new reception area of the Holland facility.
Big Dutchman has over 900 employees in Germany and 2,500 employees worldwide. It operates subsidiaries and logistic centers across six continents with sales in more than 100 countries.