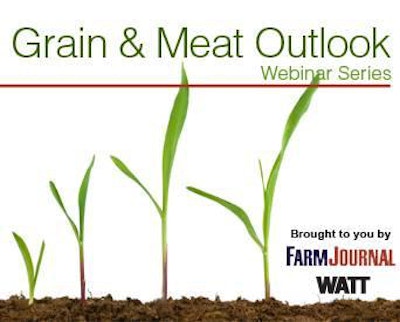 WATTAgNet and Farm Journal Media will present the first webinar in a three-part "Grain & Meat Outlook" series on March 26 at 10 a.m. CDT.This first "Grain & Meat Outlook" webinar will focus on March U.S. Department of Agriculture crop reports, prospects for the spring planting season, and the effects of the current grain supply on protein production, specifically poultry production. The webinar will feature expert speakers Chip Flory, ProFarmer editor, and Dr. Thomas Elam, president of FarmEconLLC.
Register for the "Grain & Meat Outlook" webinar online .
What you'll learn:
The most current information regarding the U.S. feed market for 2013

Key observations about whether the U.S. crop production will get back to a trend line yield in 2013

Strategies for feed users

Wholesale meat and poultry supply and pricing for 2013
More information about this webinar and other upcoming webinars is available at www.wattagnet.com/Upcoming_Webinars.aspx .