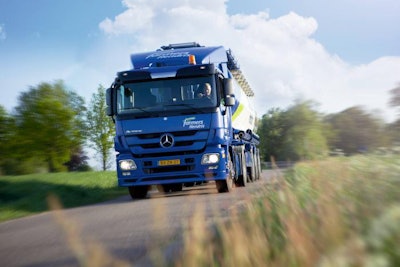 If one were following Feed International's "Top Feed Companies" article over the last few years, they would be hard-pressed not to notice that of the 60+ companies tracked, one is moving quickly up the list – ForFarmers. Ranked at #31 in size by million metric tons of complete feeds in 2010, the feed producer jumped to number 12 in the rankings for 2012, and appears to be ready to move up the list again, possibly even breaking into the top five companies globally by 2016.
Looking for opportunities
Acquisition has been ForFarmers' strategy in recent years. In 2011, it acquired Hendrix UTD from Nutreco. In 2012 it acquired BOCM Pauls. Going into 2013 and looking ahead, ForFarmers CEO Bert-Jan Ruumpol is looking for more acquisition opportunities. "Total feed production in Europe is 150 million metric tons. Our current share is 6.5 million metric tons. This means that there are a lot of possibilities for further expansion. In the Netherlands these possibilities are geographically limited, but many options are open in Belgium, Germany, the UK and other European countries," Ruumpol said. This is also the reason that Ruumpol is not looking for mergers or takeovers in other parts of the world.
"After a few years of decreased production, in 2003 the decision was made to expand our company. Our strategic focus is on feed production and trade activities. Until 2005, we had seen a few years of autonomous growth and by then, we concluded that the time had come for growth by acquisition, as well. Therefore, in 2006 and 2007, we acquired German feed producers and intensified our positions in other companies like the Dutch trading company Cefetra."
Strong financial position
The company's growth can be seen in its production figures. At the end of 2005, ForFarmers produced 1.25 million metric tons of feed; now it is producing 6.5 million metric tons. "Our goal for 2016 is 10 million metric tons," Ruumpol said. "Because of the good results of previous years, we have also become a financially strong company with equity of 270 million euro."
However, Ruumpol will not point to any concrete possible merger or acquisition in the near future. "At the moment we are not looking for expansion in other continents because there are still possibilities within Europe. We are keeping an eye on all developments with our competitors. Are they expanding, what kind of feed, who are their customers, are they looking for partners, etc. This process works more or less in the same way as with finding new customers. We are not necessarily looking for the perfect candidate. What is most important to us is the company culture. They have to be motivated, have drive and operational excellence."
A changing organization
While Ruumpol states that it is important that a new company for takeover should fit in the existing culture of ForFarmers, the organization surprised many within the Dutch feed industry by acquiring Hendrix Feed, since ForFarmers was traditionally a cooperative and Hendrix a typical example of a privately owned company. But this has changed. Now, ForFarmers is a company where most shares are in the form of certificates owned by the cooperative, FromFarmers. With 2007 as its starting year and going for 10 years, this cooperative transfers its collective equity into individualized equity per member. Each member can also have his individualized equity paid out in certificates during this time. These certificates can be sold on a special trading platform to third parties. Currently, the cooperative still owns 85 percent of ForFarmers. To create more liquidity, ForFarmers is looking to go to the stock exchange in the future.
However, for Ruumpol, this is much less relevant than it was some years ago. "Our customers – farmers – are increasingly professional entrepreneurs, and they are less interested in the way our company is managed. They want what is best for their business. And we will deliver what they ask for. This also means that we have to provide them more than 'just' feed. We will deliver what they require, and what they are willing to pay for. The difficulty is, of course, that they continuously want more for less money. By expanding the company we are able to satisfy that demand," Ruumpol explained.
Advantages of expansion
Ruumpol has a clear view about the reasons for expansion. "In our opinion a larger company has clear advantages. For instance, lower fixed costs. And, as a big company, one is better able to select higher-qualified employees. Not only can we look for employees in the Netherlands, we can also find them in other countries. And, now our expanding company has better opportunities to educate our own employees," Ruumpol said.
Ruumpol said he finds it "rather absurd" that in the current times of increasing demand for feed and food, the feed sector is not able to use top-talented people and top knowledge for the better use of scarce resources. "Making careers in our line of business is mostly a matter of coincidence instead of proper planning. Our sector is traditionally very technocratic. This is not at all a negative aspect, but it can limit creative, out-of-the-box thinking. I want to work towards a structure where people come together and look for creative solutions. Why is this very common with companies like Apple or Google, and not so much in our line of business? In this respect, I want our company to be the 'Apple of feed,'" Ruumpol said.
Feed production diversity
The recent acquisition of BOCM Pauls has improved the division of feed production for different animal groups within the company. BOCM Pauls has historically been strong in cattle and poultry feed, while ForFarmers has traditionally held a bigger share in pig feed. Now it is more or less 40 percent pig feed, 30 percent cattle and 25 percent poultry. It has also expanded ForFarmers' activities over a larger geographical area.
Recently, ForFarmers announced the sale of the subsidiary Cefetra, a trading company especially for feed ingredients. According to Ruumpol, the reason for the sale is because ForFarmers wants to further focus on animal feed and is prioritizing its resources for its animal feed activities.
Political environment
An aspect of concern for Ruumpol is the political environment around animal husbandry, especially in Europe and the Netherlands. According to Ruumpol: "Politicians should think twice whether they want to continue with the trend of extensifying and against intensifying. In the Netherlands, there is a strong aversion against increasingly large farms due to pressure from voters. In my opinion, that is not correct because they should choose based on efficiency, animal welfare, the environment and innovation. They shouldn't choose based on a simple, strict limit of the farm size." There is a strong need that the animal sector as a whole should actively participate in such discussions, he said.