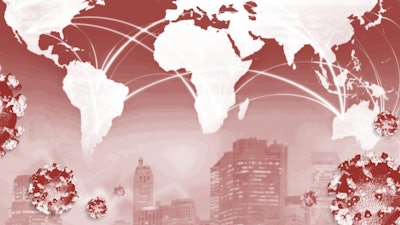 Food and beverage industries may emerge from pandemic in better shape than many other sectors
While the coronavirus (COVID-19) pandemic has had negative effects on revenue across industries, it seems the food and beverage sector will emerge in better shape than many others.
The impact of the pandemic is "rather bleak" and many industry professionals don't predict revenues will bounce back anytime soon, according to Lisa Holmes, global head of surveys at Euromonitor International, who spoke during the webinar, "Voice of the Industry: Coronavirus Impact on Companies, Employees and Consumers."
"Interestingly, the picture looks best for companies in the food and beverage space," she said. "Almost 40% of food and beverage professionals actually expect an increase in their company's sales over 2019. One important caveat here is that food and beverage in this case does not include restaurants or other consumer foodservice outlets, which we know have been very, very badly hit by the pandemic and by shifting consumer behavior."
Some of that shifting consumer behavior is expected to stick around after the pandemic, while some may only be temporary.
"There is some debate and lingering uncertainty on which behaviors and habits that consumers have really gotten into will become the new norm and which will be discarded as soon as a vaccine or other effective treatment emerges," Holmes said.
The top 5 shifts that are expected to remain are:
More working from home
Increased online shopping
Increased attention paid to how companies treat customers and employees during times of crisis
Reduced in-store shopping
Buying more health and wellness-related products
"The one behavior that sticks out is that respondents really do expect consumers to continue paying more attention to how companies are treating their customers and their employees during times of crisis," Holmes said. "And this really underscores how important it is, and continues to be, for companies to monitor how they're reacting to the situation, how they're reaching out to their employees, to their customer base, and just communicating more generally, both internal and external."
She added that the shift to more online shopping could be an opportunity for innovation by companies to cater to this demand.
Impact on operations
A vast majority – 84% – of industry professionals surveyed said COVID-19 had a moderate or extensive impact on operations, and only 22% of companies said they had a business continuity plan in place before the pandemic.
"This left most scrambling to create that plan as the world went into lockdown," Holmes said. "Many, if not most, companies were really caught off guard by the pandemic when it came to their operational continuity."
As of July, 10% of companies said they were still in the process of creating a business continuity plan.
Employees' ability to do their work remotely had the biggest impact on businesses.
"Companies with a workforce that can do their jobs remotely suffered less than those that ran into barriers such as roles and tasks that needed to be done on-site," Holmes said. "We know that not all companies have been able to successfully navigate this unprecedented landscape, and having a workforce that just cannot do their jobs remotely tops the list of barriers preventing action."
Many of the critical actions that companies have taken since the start of the pandemic center on supporting remote working, such as implementing new tools, more frequent communications and increased use of technology.
The top 5 measures that companies have taken to prevent similar risks in the future are:
Expansion of remote working
Reshaping and implementing digital strategies
Developing crisis contingency and response procedures/plans
Improving client/customer communications
Adding ecommerce/omni-channel distribution