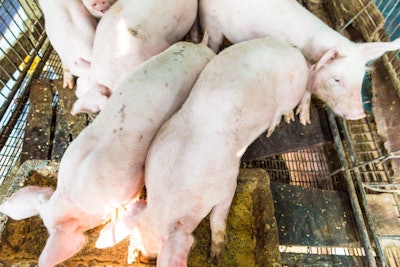 Losses from African swine fever (ASF) have spread to three more states in Nigeria, while the disease is spreading within a province of the Philippines, and in Russia's Far Eastern federal district.
The African swine fever (ASF) virus has now been detected in five districts of one province on the island of Mindanao in the Philippines, according to Philippine News Agency (PNA).
More than 2,100 pigs have so far been culled from a total of 15 villages in North Cotabato. Since this province's first cases in the area around Magpet town in June, ASF has spread further to Arakan, President Roxas, Makilala and, most recently, to Kidapawan City. All of these districts are in the east of North Cotabato. Owners of affected herds — 509 in total so far — are to receive compensation for pigs that are culled. One week ago, the costs associated with these outbreaks had already reached PHP7.8 million (US$160,000).
Recently, a provincial official has called for the Department of Agriculture to speed up interventions to bring ASF under control.
Over the past week, PNA has reported the introduction of some new disease control measures. These include the requirement for traders in General Santos City to obtain a permit to sell pig meat, as well as checkpoints on highways around the city. In Davao city, authorities have increased monitoring of public markets.
Authorities in the main urban center in the Bicol region, Legazpi City, are tightening up controls of pigs and pork from nearby Camarines Sur. Cases of ASF have also been reported in that province, according to PNA.
In the Luzon island provinces of Pangasinan and La Union, previous outbreaks of ASF directly impacted 4% of the region's pigs. According to Department of Agriculture figures cited by PNA, more than 16,100 pigs were culled in 39 districts of those two provinces. Spread of the infection was thought to have been exacerbated by the local custom of slaughtering pigs to share with others, sometimes as a business transaction.
ASF reported in 12 Nigerian states
Sharp rises in morbidity and mortality in pigs were reported in Nigeria around four months ago. Cause was subsequently identified as ASF.
Over the past two weeks, the infection has spread further in the country. According to the latest official report to the World Organisation for Animal Health (OIE), ASF now affects pigs in 12 of the country's states. Latest to confirm cases are Osun and Oyo in the southwest, and Akwa Ibom in the southeast.
Worst affected in terms of pig mortality are the states of Lagos, Abia, Ogun and Plateau, according to the federal agriculture ministry.
Solomon Islands on alert for signs of ASF
In order to keep ASF out of its territory, pig keepers on the Solomon Islands are on taking precautions to protect their animals.
Farmers there have been urged to watch for signs of ASF in their pigs, reported Radio New Zealand (RNZ). Imports from ASF-infected countries have been banned since April.
The alert level on the islands has been raised as neighboring Oceanian island nation of Papua New Guinea struggles to control ASF. RNZ put pig mortalities in that country's upper highlands at 2,000-3,000. The disease was first detected in Papua New Guinea in March.
7 new outbreaks confirmed in Russia's Far East
Over the past week, Russia's agriculture ministry has registered a further seven ASF outbreaks in its Far Eastern federal district.
According to the official report to the OIE, all the new outbreaks were in backyard herds of up to 73 animals. A total of 111 pigs were affected, including six deaths. Five of the premises were in Khabarovsk krai, and the other two in Primorsky krai.
ASF was first confirmed in Russia's Far East in August 2019.
Further ASF cases in South Korean wild boar
South Korea's animal health agency has confirmed to the OIE another 17 cases of ASF in wild boar.
All were found in Gangwon province in north of the country, in districts bordering North Korea. Along with further cases in the Hwacheon, Cheorwan, and Yanggu, the first infections were registered in the county of Inje.
Among Asian countries, South Korea has been most successful in its efforts to control ASF. According to Joe Schuele of the U.S. Meat Export Federation, South Korea did a good job of mitigating the ASF situation. He said South Korea has restored its domestic pork industry.
China's latest ASF vaccine trials have delivered promising results, and will advance to the next phase, reports the country's agriculture ministry.
New research from Europe indicates that ASF transmission in feed is not as easy as previously thought.
View our continuing coverage of the global African swine fever situation.