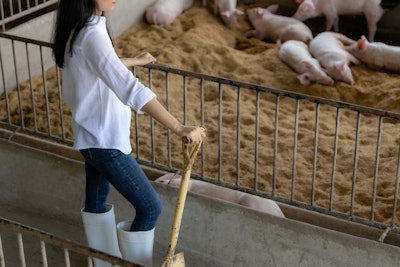 Ag stakeholders urge farmers dealing with unprecedented challenges caused by pandemic to seek help, counseling
The National Pork Producers Council (NPPC) recently held a media call to push for legislation that would provide economic relief for hog farmers during the novel coronavirus (COVID-19) pandemic. But I couldn't help but notice another recurring theme: farmers are also facing an emotional and mental health crisis.
The COVID-19 pandemic has created unprecedented challenges for livestock producers, adding to the financial and weather-related stressors they regularly face. As processing and packing plants have slowed or temporarily closed, animals have backed up on farms and producers have been forced to euthanize millions of pigs, poultry and cattle because there is nowhere for them to go.
"In addition to the staggering lost value of hogs, pork producers face mounting costs associated with depopulation and safe disposal," said NPPC President Howard "A.V." Roth. "Sadly, there is a significant need for (mental health) programs, given mounting financial and emotional stress faced by farmers."
Recently, Minnesota hog farmer Andrea Hoehn told NPR: "We hog farmers think we were put on this earth to raise animals. That's our job and pride. We raise animals to feed people. It's our circle of life. But when you raise them and they don't feed anyone, all for nothing, just … God did not create us to do this. It's going to take a long time for us to be OK."
And it's OK not to be OK, but counseling and other mental health services can help producers weather the storm.
Euthanasia a last resort
No farmer wants to put down his or her animals or raise an animal just to see it go to waste. Farmers care about their animals and want to treat them well, and when they're forced to do the opposite, it can be devastating.
"It's tough and we're concerned about the long-term ramifications that it's going to mentally have on our families and our employees," said Iowa pork producer Mike Paustian.
Chad Leman, a hog farmer from Illinois, said culling livestock is the last resort and that he strives to do three things when facing this difficult decision: wait as long as possible, try to shield employees from it as much as he can, and do it as humanely as possible.
"We always talk about putting the pigs first," Paustian said. "We are raising pigs, we have accepted the responsibility that we're going to care for their every need. … To turn a complete 180 from that kind of attitude … and say, well now we're just going to see these pigs go to waste, it's demoralizing and that's why we're sensitive to the effect that's having on us and our families and our employees. This is not what we signed up for and this is not something that anybody wants to do."
"We always want to do what's best for the pig and the health of them and the welfare of them," said Minnesota hog farmer Kevin Hugoson. "Usually I've been able to stay very positive and to be proactive … but all that's going on really takes a toll on a person. As an owner, I've worked hard to still be positive to our employees … but it's challenging."
"That was our greatest fear as this thing began was, what are we going to do if we can't find a place to go with pigs?" Leman said. "In my farming career, I've never seen anything quite like what we've seen over the last two and a half months. In many ways, those two and a half months feel a little bit like a lifetime, given the decisions that we've been faced with."
Paustian said that, if the situation continues without financial help from the federal government, he's afraid of what will happen to family farms across America.
"We need to throw a lifeline to these family farms to help them hang on and get through this until things can turn around," he said. "Once these family farms shut down and have to call it quits, that's the end of that family's legacy and that's the end of their story. It's never coming back again. … My concern is that we're going to lose our really great generational family farms through this if we don't get some help."
And my concern is what will happen to the farmers themselves during and after this crisis. According to a USA Today analysis, in 2017, at least 75 farmers in six Midwestern states died by suicide, and at least another 76 in 2018. I personally knew one of them – a family friend who raised dairy cattle a mile from my childhood home.
You're not alone: Resources for mental health services
When I listened to these farmers speak candidly about what's happening on their farms and how difficult it is for them, I knew they weren't the only ones. There are hundreds or even thousands of other farmers facing the same challenges and grappling with the mental and emotional consequences. But they don't have to feel alone in the struggle. There are resources for farmers to help them deal with stress, address their mental health and prevent suicide.
If you or someone you know is struggling, please seek help from one of the resources below, or from your state or local farm bureau or ag extension office:
National Suicide Prevention Lifeline https://988lifeline.org/ +1.800.273.8255
Farm Crisis Center https://farmcrisis.nfu.org/
American Farm Bureau Federation https://www.fb.org/programs/farm-state-of-mind
The Do More Agriculture Foundation https://www.domore.ag/
HealthyPlace https://www.healthyplace.com/
If you don't take care of yourself first, you can't take care of your farm, your family or your community.