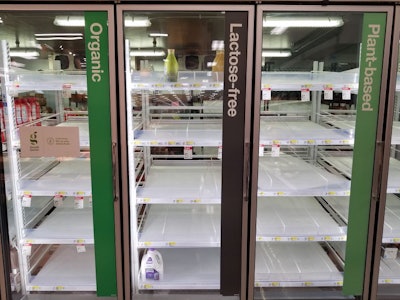 The problem facing farmers during the coronavirus pandemic is 'not simply a matter of supply and demand'
Panic buying during the coronavirus (COVID-19) pandemic has left some grocery store shelves bare, and record joblessness has increased need at food banks. Meanwhile, the closure of restaurants, schools, hotels and other establishments has given farmers limited outlets into which they can sell their products.
The empty grocery shelves are not the result of a food shortage: Fruits and vegetables are still growing and being harvested, meat processing continues, cows are still being milked and chickens are still laying eggs. But the closure of restaurants and other businesses and the switch to everyone cooking and eating at home has caused major shifts in the source of the demand.
"Bottom line, the impact is not simply a matter of supply and demand. The entire food chain is trying to adapt to match supply with the changes in demand," said Zippy Duvall, American Farm Bureau Federation (AFBF) president, in a media call last week.
Shifting demand
You might ask, if all those agricultural products are still out there, can't farmers just ship them to grocery stores instead of restaurants? That's a lot easier said than done.
"Part of the challenge … is to adapt the products and redirect them to the supply chain that reaches the grocery store," Duvall said. "That means that eggs that were going to the restaurants just can't be put into the carton and go to the grocery store."
Perhaps the most painful illustration of this is the stories of dairy farmers dumping milk, and vegetable farmers picking and dumping their crop because they just don't have anywhere to sell them, or the cost of processing and shipping is more than the profit they can make because of the massive drop in commodity prices.
Duvall said one action the AFBF is taking is working with retailers to lift restrictions on the number gallons of milk each customer is allowed to buy at the store.
"That's the biggest thing we can do to help farmers get rid of this milk and get it to where somebody can utilize it instead of us putting it out on the ground," he said.
Idaho dairy farmer Alan Reed is grateful because his farm offers a milk home delivery service that "is doing fairly well. People enjoy that service, with the milk being delivered to their home, and our sales at the grocery stores has stayed pretty steady, but the restaurants are all shut down."
And that's where the big problem is for dairy producers.
"Because of foodservice and restaurants being shut down, all of a sudden it turned into a strange thing to where we had too much production of milk," Reed said. "Because the cows have to be milked. In order to keep the cows healthy and for their best well-being, we have to milk those cows every day, multiple times a day, and so we do have an overproduction situation right now on milk, and the price of milk is coming down, and it's going to turn into a real hardship for us dairymen on what to do with that milk product."
For Jim Alderman, who owns and manages a 1,200-acre vegetable farm in Palm Beach County, Florida, the shutdown of restaurants across the country has created a glut of products such as tomatoes, peppers, squash and cucumbers that he cannot sell.
"What is happening to us today, in the troubles we're having, is the foodservice industry is basically shut down," he said. "We still have some fairly decent retail business that stays with us. But all the customers that we had that take produce for their foodservice business closed. So, what has that done? It created kind of a backlog."
He said there are produce growers "that are picking their squash, dumping it. There's no sense in packing it because there's no sale for it. So, they're cutting the squash every day and throwing it on the ground, hoping that the market will turn around and they'll be able to sell their product. But it looks a little bleak in that arena. There's just no market for a lot of this produce that traditionally goes to foodservice industry. So, we're down quite a bit and the prices reflect that also."
Donation challenges
OK, so why don't the farmers just donate their excess product to food banks? That's also easier said than done.
"It's expensive to pick and pack," Alderman said. "You've got to realize how much it costs to pick, to harvest something, wash it, pack it, cool it and get it out the door. There's quite a bit of cost involved in that. If somebody would come along and say, 'Hey, we'll pay your picking, your harvesting, your fuel and all those costs,' we'd be glad to pack the product and send it to them."
Reed said the logistical challenge of getting his product to food banks is prohibitive.
"The coordination that we would have to have as far as, from the dairy farmer through the processing plant and logistically into the food banks is a challenge that we need to overcome," he said. "The logistics of it is where we find the roadblock at times."
Maybe food banks and farmers can come to a better working relationship to ease some of these logistical challenges in a way that benefits everyone and results in less food waste and fewer supply gaps.
How is COVID-19 affecting your feed business? Share your experience.