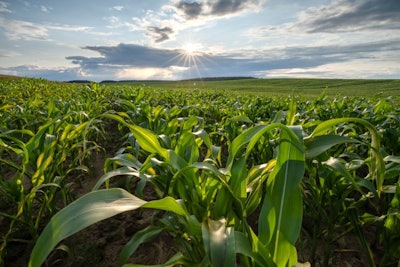 Downstream pressure prompts feed industry to measure, improve its environmental footprint
Pressure and mandates from downstream customers will change how the animal feed industry measures, records and reports its environmental footprint in a global effort to reduce greenhouse gas (GHG) emissions to curb the effects of climate change.
At the 2021 Climate Change Conference (COP26), nations committed to achieve global net-zero carbon emissions by 2050. Net zero meaning the carbon emitted into the atmosphere and the carbon removed from it are balanced. Under the Global Methane Pledge, launched at COP 26, more than 100 countries pledged to reduce their methane emissions by 30% by 2030 to keep global temperatures from rising .02 degrees by 2050.
Today, agrifood producers, retailers and food service companies are making moves to reduce their emissions throughout production — and every step along way until the product is consumed. Guided by the Greenhouse Gas Protocol, these efforts are split across three scopes. A focus on reductions in their Scope 3 emissions, which considers all indirect emissions that occur in food production's value chain, will have the greatest implications for feed producers.
Beyond the immediate oversight and demand of invested partners and customers, financial institutions and insurers are keeping track of the "climate-related risks" on their balance sheets, requiring environmental performance disclosures from their clients.
Now is the time to begin — or accelerate — your feed company's understanding of the potential requirements and modifications needed reduce the operation's environmental footprint, as many describe the emphasis on sustainable production a "license to operate" in the not-so-distant future.
An opportunity?
The agrifood industry's net-zero targets will influence how feed producers source, manufacturer and formulate their products; however, this presents an opportunity for the feed sector to capture useful performance data while also reducing its environmental footprint.
How will this be accomplished?
"Data is key to the feed industry reducing its footprint," said Dr. David Nickell, DSM Animal Nutrition & Health's vice president, sustainability and business solutions, at the 2022 European LIVE Feed Congress, held in Utrecht, Netherlands, on May 30.
Nickell suggests feed producers take an "end-to-end approach" to identify where there are problems, where to make interventions and where to apply science-based solutions.
"You don't improve what you don't measure," he said, pointing to the important of life-cycle analysis methodology to capture credible metrics. "Once you know your footprint, you can take ownership of it. You can stand by your numbers, implement best practices and make continuous improvements on your journey to net zero."
Keep an eye for more coverage from the European LIVE Feed Congress!