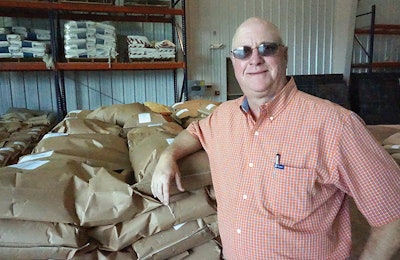 In the five years since I toured Auburn University's Poultry and Animal Nutrition Center's feed mill, the momentum behind the poultry science department's expansion has increased exponentially. At the time, the mill was in the final phases of its relocation to the university's North Campus, several miles from its decades-old location.
The day I toured the mill, the last of the modular pelleting machinery was being fastened into place.
After learning of the feed mill's many successes, I was excited to return to Auburn to tour the new Charles C. Miller Jr. Poultry Research and Education Center, featuring two new state-of-the-art poultry houses and an equipment testing and evaluation facility, the National Poultry Technology Center.
Working with the greater industry
Since it became operational, the 12,000-square-foot mill has produced 8,000 tons of feed. Mitchell Pate, director of Auburn University's Poultry Research Unit, estimates it will produce 1,500 tons in 2017. Ninety percent of its feed production is fed in-house.
The department is finding that the demand for feed and additive research has exceeded the department's expectations. According to Pate, there is a three-month waiting list for new projects.
"There's a research backlog where we could justify adding a second shift at the mill, but we don't want to get to the point where we're rushing feed through here," Pate said, noting that 60 percent of the mill's research involves feed additive trials. "We're not set up for production; we're set up for research."
Through the extension, "sold-out" training courses for existing feed millers are also hosted at the mill.
Expanded curriculum
According to poultry science department head and professor Dr. Don Conner, the feed mill and the poultry research center will allow Auburn to produce the "employees of choice" for the U.S. poultry industry by allowing it to expand its curriculum.
"We want our students to be able to connect the dots — to really understand how all the different units function together — when they get out there in the industry," Conner said.
For example, feed milling is a required course for all poultry production students. Students in the poultry science program are also required to take four business classes and one course on bioengineering.
The enhanced curriculum has been made possible by the College of Agriculture's dedication to the poultry industry and the generosity of industry stakeholders, which encompasses monetary and equipment donations.
"The center is not for Alabama or Auburn; it is for the benefit of the entire poultry industry," Conner said. "It is here to serve the needs of poultry producers long into the future."
Personally, I appreciate the long-view, hands-on approach Auburn is taking with its students and, as an outsider, I appreciate having the opportunity to watch the poultry science program grow.