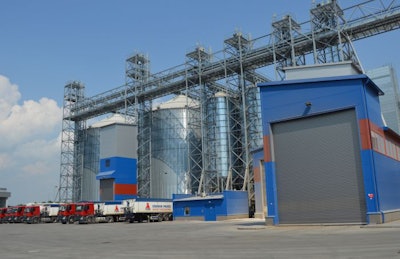 Polish poultry and pork company Cedrob built a new feed mill in Ligota Dolna, which will enable the company to increase its feed production capacity by 30,000 metric tons per month and push its annual feed output to beyond 1 million metric tons annually.
The new facility will mainly produce pig feed, under the Cedrob Pasze brand, which will be delivered to contract farmers and breeders. The company intends to continue procuring grain from Polish farmers to help meet this capacity. According to a press release from the company, Cedrob bought nearly 900,000 metric tons of wheat corn, triticale, oats, rapeseed, rye and barley from Polish farmers in 2017. The new feed mill is expected to increase the annual demand for raw materials by 30 percent.
"The investment in Ligota Dolna will allow us to supply stock breeders with feeds in southern Poland more efficiently," said Czesław Szlagowski, director of the Ligota Dolna feed mill. "The official opening of the feed mill is another step towards the implementation of the 'from a grain to the table' model and it is a strong development impulse for the agricultural areas of this region. In the areas in which we operate, we base our cooperation with farmers on trust and fairness."
The new mill is one of the most modern facilities in the country, the company stated. It is equipped with a specialized line for cooking cereals, which enables the gelatinization of starch contained in cereals. As a result, both the feed intake and the efficiency of the use of feed are improved. The company also touts improved biological safety of the processed raw material with the high temperature and long duration of the feed manufacturing process.
Cedrob is the largest poultry producer in Poland with 28 years of experience in the industry. It is also the 12th largest poultry company in Europe, according to the Poultry International Top Companies rankings.