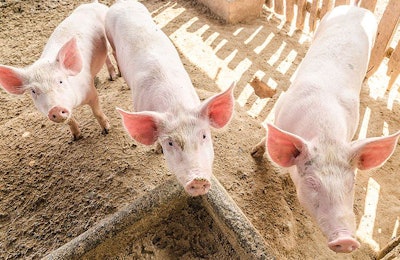 The 2018 World Pork Expo, June 6-8, will showcase a wealth of activities, but now there are two more to add to the list. The National Pork Producers Council (NPPC) has organized one- and two-day pre-Expo tours to provide intimate views of Midwest pork production and a range of agriculture.
"Whether traveling from another state or another country, Expo visitors should plan to arrive early and take advantage of the informational opportunity that these tours offer," says Greg Thornton, tour organizer for NPPC. "Not only are the tours a great way to gain insight and ask questions, but also to interact with fellow pork professionals from all over the world."
Two-day Midwest Agriculture Tour
The Midwest tour makes stops in Iowa, Illinois and northern Indiana to provide an up-close look at modern pork production practices, facilities, equipment and feed processing. Insights into the growth of U.S. pork exports and agricultural shipping practices round out the tour.
The tour starts on Monday with a visit to Fair Oaks Farms and the Pig Adventure and Pork Education Center in Indiana. Visitors will get an insider's view of modern pork production in a bio-secure environment. They can also tour the Dairy Adventure and Crop Adventure centers before enjoying lunch on-site.
The next stop includes a barge cruise down the Mississippi River, where participants will learn how agricultural products move from the Midwest to the rest of the world.
Highlights for Tuesday, June 5, include a presentation on how U.S. pork production systems are organized and the growth in exports; a stop at a large feed mill owned and operated by JBS; and a visit to a modern grow-finish barn to view facilities and equipment from manure handling to ventilation.
"All stops will allow ample time for attendees to interact with industry experts and ask questions," Thornton notes. The tour bus will return to Des Moines by late afternoon on June 5.
Cost for the Midwest Agriculture Tour is U.S. $450 per person, which includes bus transportation, lodging on June 4, meals on tour days and World Pork Expo admission. Individuals are responsible for booking their own hotel rooms before the tour begins and during Expo.
One-day Iowa Agriculture Tour
Iowa is the United States' agricultural heartland, and this one-day tour is designed to provide a snapshot of area agri-businesses related to modern pork production.
The tour begins in Des Moines on Tuesday morning, June 5, when attendees will board a tour bus to visit DuPont Pioneer headquarters to learn how researchers are improving agriculture productivity through seeds with better herbicide tolerance, disease and insect protection, improved agronomic performance, and increased end-use value. During lunch, there will be a presentation by a leading expert who will further explain the business and management sides of U.S. pork production. Attendees will visit JBS for a walking tour of a large feed mill, and a grow-finish barn will showcase production technologies and equipment, with the opportunity to interact with farm personnel.
The tour ends in Des Moines in late afternoon. The cost for this all-day tour is U.S. $150 per person, which includes bus transportation, breakfast and lunch on the tour, and admission to World Pork Expo.
"The tours are designed to build a deeper understanding of U.S. pork production and the businesses that support the industry," says Jim Heimerl, NPPC president and producer from Johnstown, Ohio. "Tour participants will further benefit from their experiences as they attend Expo and walk the trade show aisles, sit in on seminars or visit with producers."
Tour registration is open
Registration for both tours is available online as part of attendee registration — space is limited, so don't delay. In addition to tour details, the website provides information on World Pork Expo hotels, advice for international visitors, helpful travel tips and Expo facts.
Celebrating 30 years of World Pork Expo, the 2018 event takes place June 6-8 at the Iowa State Fairgrounds in Des Moines. This year, Expo features an expanded trade show with record-setting exhibit space and more than 500 U.S. and international companies. Trade show hours run from 8 a.m. to 5 p.m. on Wednesday, June 6, and Thursday, June 7, and from 8 a.m. to 1 p.m. on Friday, June 8. Free educational seminars, entertainment, swine shows and breeding stock sales are just some of the other events scheduled.