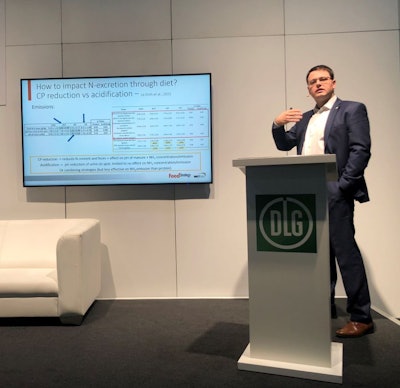 Environmental sustainability and animal health improve when crude protein levels are lowered
Lowering crude protein in pig diets brings many benefits to environmental sustainability as well as animal health, according to Bart Matton, technical marketing manager – research center at CJ Europe, who spoke November 17 as part of the Feed Strategy Seminar Series at EuroTier 2022 in Hannover, Germany.
The amount of nitrogen ingested can be lowered by limiting the amount of protein, because animals don't need protein to grow; they need amino acids.
And, when it comes to lowering the amount of protein in the diet, "the question remains, always, 'How low can we go?'" Matton said.
In a study that lowered crude protein levels, researchers found that "reducing crude protein content is a good action to take to lower down your nitrogen excretion." They found that there was no major influence on animal and meat performance, and that lowering the crude protein level along with amino acid balancing is the solution to reducing ammonia emissions from pigs.
"As a rule of thumb, 1% in protein reduction will reduce the excretion of nitrogen by about 10%," Matton said.
Showing an example of the fattening period from Germany over the past 20 years, the relative crude protein in diets has been reduced by approximately 11%, while nitrogen excretion has fallen 25% and feed conversion ratio has fallen.
"The future looks bright, so we still can further reduce the crude protein … as more synthetic amino acids are becoming available," Matton said. "Today, new amino acids are becoming available, increasing the potential to reduce your protein levels and to reduce your nitrogen excretion, or the environmental impact, of the feeds."
Focus on protein quality is also important, as better-quality protein helps the animal better digest with the use of enzymes, improves gut health, and helps in choosing the right raw materials and applying the correct digestibility values for raw materials. Limiting the amount of undigested protein will reduce inflammation, leading to better animal health and a reduction in antibiotic usage.
Matton explained other benefits of lowering crude protein, including reducing intestinal disorders, improving animal health and welfare, less ammonia in the barn, less water consumption, and lower environmental impact of feed production through changes in raw material inclusion such as using more local raw material sources instead of imported feed ingredients.