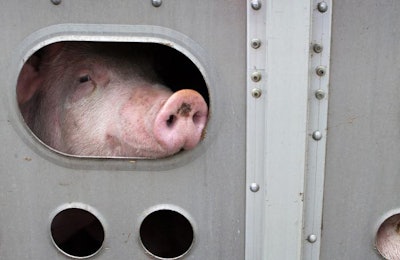 For farm livestock transported individually — such as cattle and pigs — the food safety body for the EU has identified changes that would improve animal welfare, which are likely to be incorporated into legislation scheduled for introduction in 2023.
During the different stages of transportation, farm animals experience a range of environmental conditions that could affect their health and welfare, according to the European Food Safety Authority (EFSA).
This month, EFSA published a series of opinions covering animals reared for food production. This came after several studies carried out by the authority's animal health and welfare panel. Instigated by the European Commission, the panel looked at the welfare consequences of animals during transportation as individuals — such as cattle, horses, sheep, goats and pigs — and in containers (including poultry and rabbits).
Animal welfare linked to food safety
In general, EFSA recommends three main approaches to improving the well-being of animals in vehicles. These focus on the provision of more space, reducing maximum temperatures and minimizing journey times. Importantly, all animals should be healthy and fit for transport prior to movement.
After its latest reviews, EFSA has specified temperature ranges to be maintained in vehicles for different classes of animal. It has also set minimum space allowances, and described how the different species experience hunger, thirst and fatigue over time during transportation.
The latest findings are likely to be incorporated into the European Commission's review of the legislation in this area scheduled for the second half of next year. Still in effect across the EU is a regulation that came into force in 2005.
Commenting on the latest review, EFSA's head of the department for risk assessment production, Guihelm de Seze, stressed that animal welfare is part of the One Health principle to which the agency is committed.
"Good animal welfare practices not only reduce unnecessary suffering, but also help to make animals healthier," he said. "This is a key element for the safety of the food chain considering the close links between animal welfare, animal health and foodborne diseases."
Transportation in Europe: impacts for pigs
Between EU member states, an average of 31 million pigs were transported annually over the period 2019-21, according to EFSA. Of these journeys, 99% were by road, it found.
Among the 10 adverse welfare consequences to the animals identified were stresses related to handling, regrouping, heat and motion, as well as injuries, prolonged hunger and thirst. There were also issues regarding restricted movement, sensory over-stimulation, and a lack of opportunity to rest. These varied in severity, duration and frequency, depending on the stage, means and duration of transportation.
As a result of these various stresses, pigs may experience fear, pain, discomfort, frustration, fatigue and/or distress, the review found.
New guidance on improving pig welfare during transportation
In line with its general recommendations, EFSA is urging that future regulations specify shorter journey times, at lower temperatures, and with animals given more space.
It is also calling for proper definition of "fitness for transport," with thresholds for animal-based measures (ABMs).
In the future, the period of pre-transport fasting (feed withdrawal) should be adjusted for the journey time, as well as the destination (slaughter or further fattening or breeding). Furthermore, the time taken to load the animals should be included.
Maximum temperatures experienced by the animals should be no higher than 22 C for sows, 25 C for finishing pigs, and 30 C for 30-kg weaners. Meanwhile, EFSA is calling for more studies on the effects of vehicle speed and location within the vehicle on the microclimate experienced by the animals.
Pigs should have sufficient space to change their posture and balance. A validated scientific method is required to calculate what this means in terms of minimum space allowances for different ages and weight of animals.
For EFSA, setting the maximum transportation time for pigs should take into account the stress — and possibly fear — the animals are likely to experience throughout the journey.
Even when the vehicle is fitted with drinkers, pigs are likely to experience thirst after eight hours, and hunger from 12 hours after the last feed.
EFSA's final recommendation for pigs is for them to be unloaded from the vehicles to suitable premises after the maximum journey period. This will allow them to eat, drink and recover.
EFSA's recommendations for cattle transport
EFSA estimates that 4.3 million cattle are transported between EU member states annually, and that 90% of these journeys are by road.
Affecting cattle welfare, the agency identified 11 welfare consequences that could impact transported cattle, depending on the severity, duration and frequency of occurrence. Among these consequences were stresses arising from handling, heat and motion. In addition come the possibilities of injury, and prolonged hunger and thirst.
As for pigs, EFSA is calling for formal definition of fitness to travel for cattle based on ABMs.
Maximum temperature for cattle during transportation is estimated to be 25 C. The agency also calls for more research into microclimate variations within the vehicle, and to the development of minimum space allowances for cattle calculated by a validated method. Each animal should be able to change posture and balance while traveling, EFSA says.
During transportation, it can be assumed that cattle will experience continuous stress, and possibly fear. This consideration should govern maximum journey duration. Furthermore, cattle are likely to experience thirst after traveling for nine hours, and hunger after 12 hours.
At the end of this period, cattle should be unloaded from the vehicle to a location where they can drink, eat and rest.
Next week, EFSA will be presenting these recommendations publicly for the first time.
Last month, EFSA announced it had extended its African swine fever awareness campaign in Europe for an additional year. This is because the disease continues to circulate in central and eastern European states.