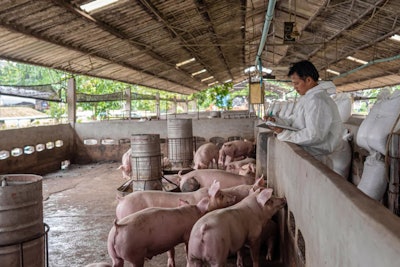 The latest confirmed cases of classical swine fever (CSF) on a pig farm in Japan brings the country's total outbreaks over the past three years to 73.
In the past week, classical swine fever (CSF) has been detected at another farm in Japan.
According to the latest official report from Japan's veterinary authority to the World Organisation for Animal Health (OIE), the affected farm was in Maebashi city. Located in Gunma prefecture, this is in the Kanto region of central Honshu, which is the nation's largest island.
At the farm, elevated mortality was observed. RT-PCR testing confirmed the presence of the CSF virus, and that it was a wild strain.
Of the 3,900 pigs at the farm in mid-October, seven showed symptoms and 20 died. The remaining 3,880 animals have been destroyed.
In addition, approximately 450 pigs at a linked facility were also culled.
Since CSF was first detected in September 2018, 73 outbreaks on farms have now been confirmed. Directly impacted have been a total of 250,743 pigs.
Four CSF outbreaks on farms in three months
Since August, three other CSF outbreaks have been recorded in Japan. According to the official OIE reports, two outbreaks were identified at the start of that month.
Of these, one was in a herd of more than 5,000 pigs in another city in Gunma prefecture, and the other was in Yamanashi prefecture, which is in the neighboring region, Chubu. With just over 1,700 animals, this premises was identified because it had supplied pigs to a farm involved in a previous outbreak.
There followed a two-month hiatus. Then CSF virus was detected again in early October at a farm in Shiga prefecture. Located in the region of Kansai, the prefecture is just to the west of Chubu.
In all three prefectures, vaccination against CSF is authorized. It is not reported whether the pigs involved in the outbreaks had received the vaccine.
Cases in Japan's wild boar exceed 3,900
During the month of July, 126 wild boar in Japan tested positive for the CSF virus, and 148 more during the next month. This is according to the official OIE reports.
Found in 18 prefectures, these latest positive cases were widely distributed in four regions of Honshu.
Since the first cases three years ago, total cases in Japan stand at 3,914, including 1,040 wild boar found dead.
CSF 'resolved' in Bhutan
To the OIE, Bhutan's veterinary authority has recently declared that an earlier CSF "event" is closed in the southeast Asian nation.
In June, two wild pigs found dead near the capital city of Thimphu tested positive for the virus. These were the first cases detected in the kingdom for three years.
As no further cases were detected, the authorities consider the disease situation "resolved."
More on CSF
No updates on the CSF situation in Brazil have been reported to the OIE for two months.
Between the first cases in September 2020 and early August, 11 outbreaks were officially confirmed by the Brazilian authorities. Involving almost 200 pigs in total, all the affected premises were described as "extensive backyard farms." Furthermore, they were all located in the northeastern state of Piaui, which lies outside the country's CSF-free zone. The most recent reported CSF outbreak was in mid-June.
Also known as hog cholera, CSF is a contagious viral disease of domestic and wild swine, according to the OIE. Caused by a pestivirus, there is just one virus serotype. It infects only members of the pig family, and it does not affect humans. CSF presents in acute and chronic forms, and symptoms range from mild to high mortality. A notifiable disease, it is easily transmitted by direct or indirect contact with infected pigs or pig products.
CSF is found in parts of Central and South America, Europe, Asia and parts of Africa. In several European countries, there were large outbreaks during the 1900s. Regions free of the disease are North America, Australia and New Zealand.
Causing similar symptoms and mortality in members of the pig family is an unrelated virus, African swine fever.