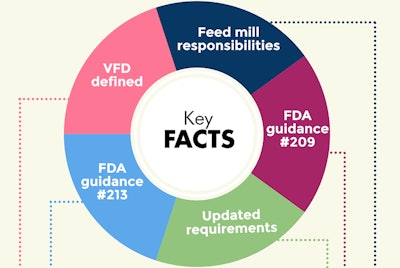 Share this Image On Your Site
After nearly five years, the deadline is looming. The updated Veterinary Feed Directive (VFD) will go into effect on Jan. 1, 2017. U.S. feed mills are well aware of what the VFD means for their business, but perhaps a few are still wondering — what actually happens on January 1? Based on the webinar, "Feed Mill VFD Survival Strategy," produced by web-based animal health records software supplier GlobalVetLINK, this infographic and Q&A is here to help.
VFD: A brief recap
According to FDA guidance #209, the use of medically important antibiotics will no longer be allowed for growth promotion and these drugs will now require veterinary oversight (i.e. a prescription for feed-grade and water-based antibiotics). To obtain such drugs, U.S. producers and feed mills will now need a VDF, a written statement provided by a veterinarian that authorizes a client use of a VFD drug or combination VFD drug in or on animal feed to treat animals.
Guidance #213 sets the three-year road map to move medically important antibiotics from over-the-counter (OTC) to VFD status by Jan. 1, 2017.
Who does this affect?
In addition to drug companies, veterinarians and producers, distributors are a key player in the VFD rule.
Who's considered a distributor?
Any person distributing feed containing a VFD drug to another person or organization.
What are the distributor's responsibilities?
Notify FDA with intent to distribute VFD drugs
Fill VFD orders
Retain VFD orders for two years from date of issuance
Any updates since the last time I read about VFDs?
Recent updates to VFD requirements:
Electronic signature and transmittal not only accepted, but encouraged
Estimated number of animals that will be treated and the duration of use will be required, instead of the previously required estimated feed tonnage.
When does a VFD expire?
A VFD expires within the duration of the prescription as identified by the vet or within 6 months of its issuance, whichever comes first.
Can you help me wrap my brain around the scope of the VFD?
While a small group of drugs will remain OTC, more than half of antibiotics used in animal agriculture will require a VFD. For example, in 2012, only 1 percent of feed-based antibiotics required a VFD; in 2017, 61 percent will have transitioned to VFD status.
As of Jan. 1, 2017, 12 drugs in particular will move to VFD status.
The FDA predicts 750,000 VFDs will be issued annually after Guidance #209 takes effect.
Anything else I should know about?
The FDA will send state inspectors out into the field to evaluate the success – or failure – of its education efforts. During this pilot program, they will visit registered feed mills.
The full "Feed distributor VFD survival strategy" webinar is available on the company's YouTube channel: https://www.youtube.com/watch?v=z5YYbdz0zbU