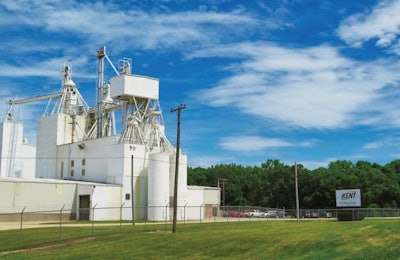 Muscatine, Iowa-based feed and food company Kent Corporation heavily emphasizes employee development and the production of high-quality products with its 1,600 employees.
Exemplifying the success of these principles, Kent Nutrition Group's (KNG) animal feed manufacturing facility in Rockford, Illinois, has been recognized several times for its excellence in management and quality, including, most recently, the American Feed Industry Association's 2015 Feed Mill of the Year.
"Kent Nutrition Group is a family-owned company that really cares about its employees," said Tom Smolen, plant manager of the Rockford mill, noting that the company's culture has kept employees happy and the business running well for three generations.
"They work to maintain a relationship with their employees," he said. "What other companies can learn is, if you can develop that attitude, it's going to go a long way."
KNG culture in action
For KNG, producing a quality product means cross training employees to perform multiple duties, instilling a culture where employees take pride in their work, performing multiple checks throughout the manufacturing process, and working to provide customers with service, trust and satisfaction.
The company measures quality in several ways, including internal metrics, competitive analysis, routine audits and customer comments.
"We stress throughout the organization a culture of quality, and Tom and his crew have taken that principle and run with it," said Mike Gauss, vice president for KNG. "Our Rockford team does a great job of living that mindset every day.
Smolen takes his time to find and hire the right employees. He looks for people who will check others' work, take initiative, are willing to help each other, and will look for and fix mistakes.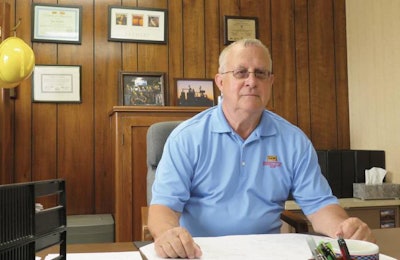 Tom Smolen is the plant manager at Kent Nutrition Group's feed mill in Rockford, Illinois. | Ann Reus
"We take it seriously and we work to remember that it's about the people and about training them and treating them well," Smolen said. "They understand the role they play in creating that service and trust."
Gauss said Smolen has set a standard for new employees to live up to, and incorporates self-policing to make sure quality standards are met.
"The customer that's feeding that animal needs to do it in a good, profitable way, and our challenge is to give him the opportunity to do that," Smolen said.
Gauss added: "Our quality is the No. 1 thing that we pride ourselves on, and providing that service throughout the system."
Today, Kent's Rockford mill serves roughly 45 farms and 28 dealers.
Inside the Rockford mill
Equipment upgrades contribute to the quality of KNG's feed products. The company has recently upgraded several pieces of equipment, and has plans for more in the future.
The Rockford facility, which serves Northern Illinois and South-Central Wisconsin, was built in 1964 and has been expanded twice. In the past year, the steam harness to the pellet mills was rebuilt to create better steam, and the Hamer-Fischbein packaging line was updated to better handle the new poly-woven bags used at the plant.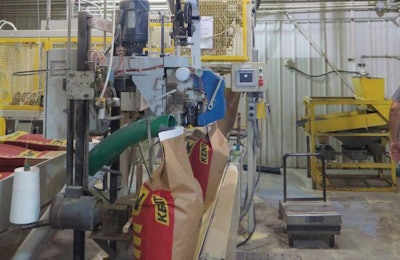 KNG recently updated its packaging line to better handle the new poly-woven bags used at its plant in Rockford, Illinois. | Ann Reus
A new Hamer-Fischbein scale allows for tighter parameters on 50-pound bags. Smolen said updates have been made in increase efficiencies and keep up with changing times and products.
"You need to create a more quality product at a faster rate," he said. The mill has increased its throughput by more than 50 percent with its new bag hangers, and has seen a significant improvement in the overall weight accuracy of its bag scales.
Gauss added that "packaging is becoming much more important, and our efficiency and ability to tie in a quality product in a quality bag is very important."
The company partnered with WEM Automation on its new batching systems. It enhanced WEM's standard offering to help with standard quality procedures, like bar code scanning, and added steps along the way to reduce risk and bolster the company's quality control program.
In-house, the company has developed systems for production planning, inventory and scheduling. KNG uses Feed Management Systems' Brill Formulation program and Pennent for tracking costs.
The company is also considering investing in robotic palletizing systems and new milling systems.
Corporate growth plan
Gauss said KNG is focused on capital investment, employee training, increasing pelleting capacity and efficiencies, and improving packaging to help the company achieve its growth plans.
For example, KNG recently converted an old warehouse facility at its Altoona, Iowa, facility into a texturizing facility to manufacture texturized beef and dairy cattle and equine feed. Operations began there early this year.
"Double-digit (annual) growth is always something we're shooting for," Gauss said. KNG has experienced "consistent, sustained growth over the past few years."
In the geographical areas where the company does business – the Midwest with the Kent brand and East Coast with the Blue Seal brand – the livestock market is expanding, along with Kent's market penetration and market share.
KNG has seen significant growth in its core dealer business as well as multiple growth channels over the past few years, across all of its trade areas.
"Our market share and growth are quite strong, and we are enjoying that right now," Gauss said.
In total, Kent Corp. operates four subsidiaries: Grain Processing Corp., Kent Nutrition Group, Kent Pet Group and Kent Precision Foods Group.