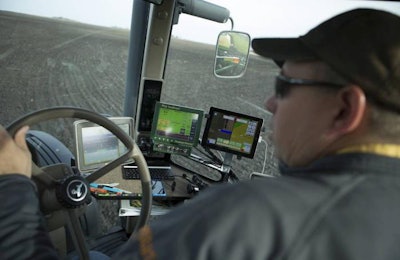 When farmers want to get data from their fields to their retail partners, they can put the information on a portable disk drive and physically take it to them. But, with cloud-based systems, the exchange of information is instantaneous and does not require physical movement.
WinField, a seed and crop protection business, has developed Data Silo, a cloud-based data management system that allows farmers to unify and securely store multiple data streams under a single platform.
"What this means for farmers is open communication between the farmer and their trusted adviser can take place without using a jump drive," said Joel Wipperfurth, ag technology applications lead at WinField, in an interview. "The wireless flow of information will help speed up the process and get results faster."
Data Silo was created out of the need for farmers and retailers — such as cooperatives and owners that sell seed, crop protection products, inputs and fertilizers — to have less duplication of data entry, and for them to be able to adopt technology tools that will make them more profitable.
"We don't think growers should be in the office doing data entry, and I know a lot of farmers who don't think they should be either," Wipperfurth said. "Our goal is to make sure the farmer can adopt tech tools that they want on their farm and they can do it without duplicating information."
With the help of Google Cloud Platform and Cloud Technology Partners, Data Silo allows farmers to efficiently access their data, gain intelligence on their crops, and quickly make decisions to help optimize their yield potential, according to the company.
"It's about the instantaneous flow of information," Wipperfurth said. Data Silo "puts the grower in control of their data." The information is securely stored and is only shared with the grower's permission; the user decides what information to share.
Data Silo "helps farmers work with their retail partners to optimize the value of their agronomic tools and make data-driven decisions," the company said in a press release. Those retail partners often have grain and energy departments within them.
The use of Google's Cloud Platform allows the management of geospatial shape files of farm fields.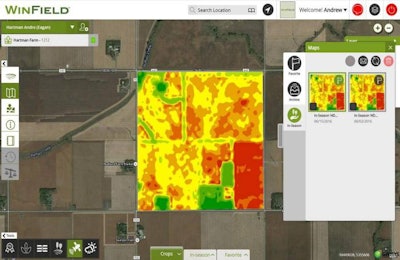 Farmers are able to use the WinField Data Silo to overlay these three pieces of geospatial information and choose which aspect to examine at any given point in time. | Courtesy WinField
"For example, different agronomic markers — such as applied maps, yield maps and field input prescriptions — typically constitute a different map file with different boundaries for the same field and grower," the press release said. "However, farmers are able to use the WinField Data Silo to overlay these three pieces of geospatial information and choose which aspect to examine at any given point in time. The WinField Data Silo also allows farmers to actively move their data between applications and share it with their trusted advisers."
Feed mill managers can benefit from the information stored and shared using Data Silo.
"If your feed mill manager is milling feed for a key customer that sells to a large consumer product goods company (one example could be Tyson), they may want the farmers from that grain shed to sell them corn, in order to enable the company to make sustainable claims," Wipperfurth said.
Also, "if the grain inside a feed mill was sourced from a sustainable grain shed district, like a watershed, Data Silo would fill out some of the data in order to prove that it's sustainable. For example, data from (another) tool … could prove sustainability by leveraging the digital assets collected from the farmers' fields."
Data Silo "was born out of the challenge of the digital revolution going on in agriculture right now," Wipperfurth said. Farmers and retailers "are trying to engage in this new age of digital agriculture. It will help them reduce the barriers to using more than one program. If readers have farms, using Data Silo will help them and their retailer move the data around."