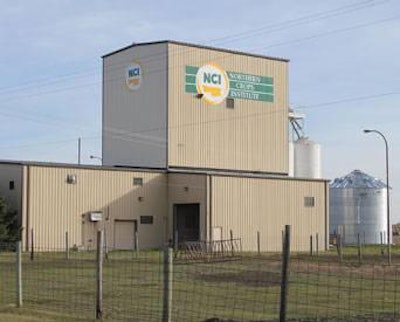 The Northern Crops Institute (NCI), an international meeting and learning center, sits in the center of the North Dakota State University campus in Fargo, N.D. Here, the NCI brings together customers, commodity traders, technical experts and processors for discussion, education and technical services. The institute is a collaborative effort to support the promotion and market development for crops grown in North Dakota, Minnesota, Montana and South Dakota.
"This four-state region leads the nation in about 15 crops," explains Mark Weber, NCI's director. "It's our mission to promote the crops that we grow in this region through educational courses and by providing technical support for industry."
Established in 1983, the NCI is funded by the state appropriations from three state legislatures, North Dakota, South Dakota and Minnesota, which account for 50 percent of its funding; the other 50 percent comes from the various grower associations and commodity groups from those three states plus Montana.
NCI feed production
The NCI houses laboratories, a flour mill, an auditorium and the Feed Processing Center, a full-service feed mill producing complete feeds, concentrates, supplements and custom premixes.
The NCI feed mill serves three functions for the university: manufacturer all the feed for NDSU's animal units; provide an educational platform for its students; and serve as a discovery facility for researchers. It also conducts research for private companies.
The NCI mill typically runs up to 40 different formulations a month to feed the animals within the department's dairy, swine, beef and sheep units.
"Everybody's always asking how much feed we make, and I give this answer, 'Well, it depends on how many animals we have on test,'" explains Kim Koch, NCI's Feed Production Center manager, noting the mill can produce between 1,800 and 2,400 tons/year. If it was running commercial feed, its production capacity would be close to 30,000 tons/year. The facility has 25,000 bushels of onsite grain storage for its corn and soybean stocks; it warehouses 50-pound bags of the other ingredients. DDGS are housed in flat storage.
Global reach spurs high expectations
To aid in the development and successful use of northern crops, the institute teaches international customers how to utilize the various crops in feed production through three- to five-day short courses. To date, it has hosted guests from 130 countries.
"The international visitors learn about sizing reduction, mixing, pelleting and, when needed, extrusion; and how feed manufacturing processes impact the nutrition content of ingredients they're working with," says Koch. "We talk a lot about synergy and antagonism between ingredients and processing."
However, in 2012, it became obvious the decades-old mill needed an upgrade.
"We were hosting a group from Southeast Asia — they were polite — but they made comments like, 'Yeah, grandpa had something like this' — well, not actually those words, but they let us know that we did a really good job lecturing, but when they walked out into our feed mill, it was like, 'Oh,'" Koch says. "We knew if we wanted to maintain our hard-won reputation as good educators, we needed to have the equipment to back us up."
Built in 1990, NCI's feed mill had not undergone any significant modernization program to bring it up to speed. "When it was built, it was a state-of-the-art feed mill, but we have not had any major equipment improvements since," Weber explains.
Koch, who also teaches a course on feed technology in NDSU's animal science department, notes that this was especially problematic because the facility is training students. "We don't want to be teaching people how to drive on a Model T," Koch says. "You can learn to drive in a Model T; however, if you go on to drive a Corvette, it's going to be different. We have graduates with animal science degrees who ended up working for feed companies because of the experience they've had here in the mill. We want to send [graduates] out in the field knowing what to expect in a modern mill."Industry steps up to support upgrades
Around the time of this revelation, the NCI team consulted with Gerry Leukam, business development manager with design-engineer firm, T.E. Ibberson Company, at the International Production & Processing Expo, held annually in Atlanta. Leukem, who worked with Cal-Poly and Auburn University on getting support for their feed mills, walked the show with the NCI team and introduced them to suppliers committed to moving the feed industry's educational agenda forward.
Koch recounts: "We had some discussions with the companies who would go on to become donors, and they said, 'If you're having issues maintaining your reputation because your equipment's not what it needs to be maybe there's something we can do to help.'" "With the help of our friends in industry the project really took a life of its own," Weber recounts.
In December 2013, the North Dakota State Legislature authorized the NCI project. In addition to the $100,000 of funding from the legislature and $200,000 in donations from the North Dakota Soybean Council and the North Dakota Corn Council, NCI has received nearly $500,000 worth of donated equipment.
While the mill structure will not be expanded, it will receive a new Scott mixer capable of making varied batch sizes; a fully automatic APEC and Intersystems 10-bin micro and four-bin specialty ingredient system with an Esmueller conveyor. An Interstates Control Systems, Inc. control and operating system is also a key element of the upgrade.
"It will bring our operation more in tune with what the industry is doing as far as production and automation go," Koch says, citing that the upgrades will not increase the mill's capacity, but will make it more efficient.
NCI plans to have the upgrades completed by June 2014. For more information about NCI, visit www.northern-crops.com.