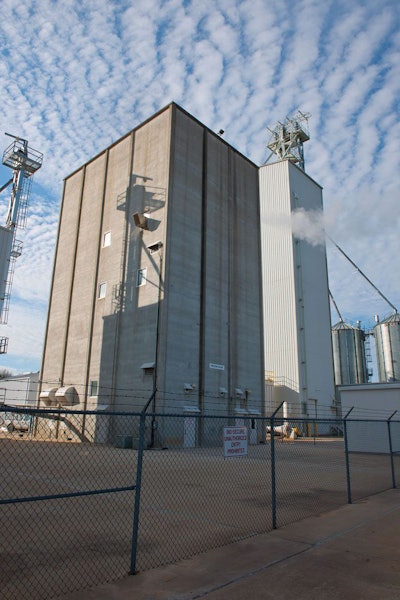 International broiler breeder supplier Aviagen has made a firm commitment to ensuring the health and welfare of its flocks through its dedication to pathogen-free feed production.
The company's Athens, Alabama, feed mill is the "only dedicated biosecure feed mill in the United States," says Richard Obermeyer, Aviagen's director of feed production.
"Aviagen views things a little differently than the broiler industry. It's not all cost efficiency and volumes; its quality and biosecurity," says Obermeyer. "It's a completely different corporate mindset."
Keeping with its mission, the company has gone to great lengths to ensure "clean" feed production, including a unique modulated facility design, frequent pathogen testing, and total employee biosecurity buy-in.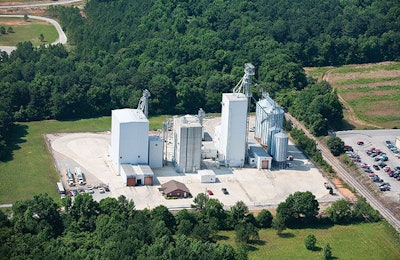 Aviagen's Athens, Alabama, feed mill manufacturers 2,400 tons per week. | Courtesy Aviagen
Split units for feed safety
The Athens feed mill is centrally located to supply the company's Southern U.S. operations, serving more than 230 farms across four states: Alabama, Tennessee, Mississippi and New Hampshire.
The mill produces 2,400 tons of compound poultry feed per week — operating three shifts, 24 hours a day, five days a week.
"The plant may look large, but our volume is actually very small compared to a regular broiler mill," Obermeyer says, attributing its footprint to the mill's unique process design.
The facility is split into three modules: processing (grinding and mixing); pathogen elimination, which is housed in the central concrete tower; and, the bulk load-out shed, where the finished product is stored and distributed.
The mill itself, however, operates as two separate units: the "unobtained" area, which is considered dirty, and the "obtained" or clean zone, which involves feed processing and handling during and after a pathogen-eliminating heat treatment.
In the pathogen elimination tower, the specialized kill step takes place on the top floor, pelleting on the second, and cooling on the ground level. Aviagen considers the operation of its pathogen elimination equipment and its set point proprietary.
The finished feed is then transferred to loadout.
The mill serves more than 230 broiler breeder farms in Alabama and Tennessee. Nine drivers operate its fleet of seven feed trailers and deliver 100 loads each week. | Courtesy Aviagen
Biosecurity by design
In 1999, when the mill was built, Aviagen was dedicated to adopting the best biosecurity practices and technologies available — attributes made clear by its design.
The feed mill, for example, is surrounded by concrete and sits 100 percent above grade to eliminate pest infestations.
"We don't have pits, basements, holes, wells — nothing — everything is completely and intentionally above grade," Obermeyer says. "Rodents and birds don't like open areas. You create open areas to deter them from wanting to get in to your facility."
He adds that the grounds are also graded to eliminate standing water.
All the facility's processes are fully enclosed and sealed, including garage doors at the receiving and the load-out station.
Stringent Salmonella testing
Dust poses safety and contamination risks. To combat dust exposure, the Athens feed mill's processing and pathogen elimination units are pressurized.
Every week, Aviagen runs lab tests on its finished feed as well as dust samples collected from floors, electric motors, filter units and equipment using special shoe covers and drag swabs.
"I can attest to you that we are the most tested [feed] facility in the world," Obermeyer says, attributing the statement to the mill's testing provider.
To prevent Salmonella contamination, for example, he believes environmental monitoring is the best indicator.
"To properly test a ton on feed for Salmonella, you would have to take 1,200, 500-gram samples out of that one ton of feed," he says. "That's 1,200 pounds out of 2,000 so you'd have 800 pounds left after Salmonella testing — so basically you would have nothing left."
Salmonella occurs in pockets and it "rides the dust" from raw material receiving. The collection of small samples — all day, every day — allows the mill to gauge and prevent contamination risks.
"It won't tell you exactly what was contaminated, but it's going to let you know what's coming in," he says.
Employee biosecurity culture
Aviagen's intense cleaning regime results in an extremely pristine manufacturing plant.
"We have a housekeeping program that involves every single employee," Obermeyer says. "The employees do all the cleaning — it is every day, all day long. That's nonstop in our obtained areas."
In a clean environment, there is "no just walk in and walk out." All employees must shower-in and shower-out in addition to washing their clothing at the end of every shift. Even simple equipment maintenance requires extra steps to ensure plant biosecurity.
"Everything has to be planned in advance," Obermeyer says. "For example, dye and roll changes are done Friday when we're finished. We completely shut down, so we can open the room up, do the dye and roll changes, clean up, disinfect, test, then start back up production on Monday."
The feed mill staffs 30 employees, including nine drivers.
Formulating for demand
Aviagen's genetic selection program aims to promote the "robustness and overall health" of the bird while meeting "high-quality care" standards.
"We always follow what our customers want — and we offer a range of choices from traditional birds to specialty birds to meet their needs," says Christopher Renzelman, Aviagen's senior business analysts.
Aviagen has in many ways stayed ahead of this demand curve. For example, it eliminated in-feed antibiotics in 2011.
The mill produces feed for the company's pedigree and selection operations, as well as the great-grandparent and grandparent stocks.
During the selection process, Aviagen birds are fed multiple feed types and textures to place pressure on the different bird strains to see how they perform.
"In the real world, the feed is not going to be perfect," he says. "The idea is to select broilers that will be able to perform on the very best feeds, and or on the very worst."
With the pedigree birds, standardized feed formulations complement genetic selection.
"Most broiler companies will make diet changes to take advantage of less expensive ingredients cost — Aviagen on the other hand will weigh any changes very carefully," Obermeyer says. "We don't want dietary changes to impose upon the selection process."
The mill manufacturers 15 all-vegetable formulations; 60 percent is pellets and the rest is crumbles.
The mill produces 15 different formulations for pedigree, great-grandparent and grandparent broiler stocks. | Courtesy Aviagen
Investing in the future
The mill, which is an ISO 9001-2015 certified facility, has undergone many expansions and modifications over the years — the latest and most expensive being a $2.75 million upgrade to the load-out bay, which includes an additional 1,200 tons of finished feed storage.
"Since we're the only supplier of biosecure feed for Aviagen flcoks in the United States, we try to mitigate any supply risks by having a week's worth of finished product on hand for our production base," he says.
Aviagen has also installed a bulk bagging line for sealing one-ton tote bags — allowing for the transport of biosecure, pathogen-free feed for shipment to its Hubbard pedigree operation in Walpole, New Hampshire, and to VALO BioMedia, a global supplier of specific pathogen-free clean eggs for vaccines.
In the next three years, Obermeyer believes the mill will undergo a major expansion driven by investments and growth within the grandparent stock division.
Feed mill at a glance
Company: Aviagen
Location: Athens, Alabama
Annual production volume: 125,000
Service area: Alabama, Tennessee, Mississippi and New Hampshire
Farms served: 230+
Feeding: Pedigree, great-grandparent and grandparent broiler breeder flocks
Website: www.aviagen.com