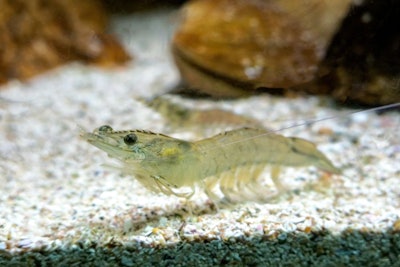 To achieve a goal of including 5-10% novel ingredients in their feed, the company employed an innovative marketing approach.
Novel and sustainable feed ingredients have been a subject of conversation for some time. But waiting for markets to shift likely won't bring these ingredients to scale, according to José Villalón, corporate sustainability director for Nutreco.
This year, Nutreco announced that it had formed a partnership with shrimp processor Klaas Puul and European supermarket chain Albert Heijn to sell shrimp raised on a new, more sustainable diet. Nutreco subsidiary Skretting will replace one-third of the fishmeal in the diet with insect meal, and one-third of the fish oil with algae oil. The remaining fishmeal and fish oil ingredients in the diet will be sourced exclusively from fish processing byproducts, and all soybean meal included in the diet must be certified deforestation-free or come from deforestation-free geographies.
But bringing this diet to market required a bit more than a product announcement. The novel ingredients in the diet still cost more than conventional feed ingredients — not a great deal more in the grand scheme of things, but enough that fish and shrimp producers aren't exactly seeking out feeds made with these ingredients, Villalón said. But consumers are increasingly interested in sustainably produced seafood, so Nutreco began the development of its sustainable shrimp diet with the other end of the supply chain: the retailer.
"When you share costs across the value chain, when it gets to the end, the incremental cost is so low that the food retailer often doesn't even need authorization from his boss, because it's within the standard deviation he's allowed to negotiate," Villalón said. "That's the beauty of mobilizing the entire value chain, because during these times, at the end of the day, it's all about cost."
Nutreco's interest in novel feed ingredients is also about cost and expanding the raw material basket. Although an algal oil or insect meal may cost more up front, Nutreco believes that diversifying its ingredient mix will give the company more options to navigate market volatility. In 2020, the company set a goal to replace 5% to 10% of the ingredients in its feed with novel ingredients by 2025 (novel ingredients currently make up about .8% of the company's feed).
"We're cognizant that it might be more expensive, but as long as they are in our basket of choices, we will have the flexibility to formulate diets based on cost and carbon footprint," Villalón said. "So that's another component of our drive to push for more novel ingredients — to address the embedded carbon in our ingredients. If we can find single-cell proteins or algal oils or insect meals that have a lower embedded carbon, we will prioritize those ingredients in our feed. However, we also need to consider a holistic approach by considering other environmental trade-offs, such as impact on biodiversity loss or water use, to name a few."
But to get there, the company will need to buy more than 150,000 tons of novel feed ingredients annually — and that kind of production just doesn't exist today, Villalón said. So they had to come up with a means of increasing demand for and supply of novel feed ingredients.
And thus, the trip to Albert Heijn in 2019 to make a proposal: to form a partnership with shrimp and ingredient processors to create a more sustainable product from end to end.
Nutreco didn't intend to start with a shrimp feed; the shrimp partnership just happened to be the first to come to fruition. It took about 30 months to bring all the partners to the table and finalize the technicalities of volume, ingredient availability, costs and shared understanding among all partners, Villalón said.
The beauty of forging a partnership that covers the entire supply chain, Villalón said, is that it eliminates the chicken-or-egg problem that comes with new products. Feed manufacturers don't want to become reliant on an ingredient that has yet to be produced at scale, but startups are equally challenged to find financing and expand without committed customers.
"A lot of the time, it just takes time," Villalón said. "You make a presentation, they have some conversations, they have questions, you clarify. It takes time. But it's worth it because once it clicks, it's a domino effect."