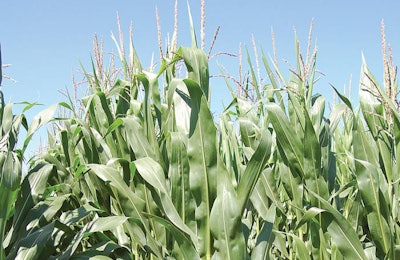 Driven by an expected rebound for Thailand's poultry and swine sectors, 2 new schemes to boost domestic corn production have been announced.
With the aim to boost corn production in Thailand, the government has introduced two new schemes.
Together, they have a budget of almost THB1.72 billion (US$50 million), reports Pattaya Mail.
Around THB1 billion has been approved by the Cabinet to collect animal feed and to add value to the nation's agriculture sector. The fund will be used in two ways. First, it will help to facilitate the purchase of corn from Thailand's growers. Furthermore, it will allow low-interest-rate loans to be offered to producers in need of funds to support their businesses. The scheme will run until June 2024.
With an expected budget of THB716 million, the government is providing an income insurance scheme to farmers growing corn. To encourage the cultivation of corn, the authorities are setting a guaranteed minimum price of THB1,850 per metric ton (mt) for corn with 86% dry matter.
According to a government spokesperson, this initiative will protect Thailand's growers from an unexpected drop in the price of corn.
Thai corn, feed demand forecast to rebound
Two sectors of Thailand's animal agriculture sector are forecast to grow this year.
In its latest assessment of the feed crop markets in the Asia nation, the U.S. Department of Agriculture (USDA) Foreign Agricultural Service (FAS) is expecting a recovery in the pig sector after previous outbreaks of African swine fever. Furthermore, the agency is forecasting an expansion in poultry meat production to supply rising chicken exports.
For the marketing year starting in July 2023, FAS forecasts the area under corn in Thailand to be 1.2 million hectares — up slightly from the 1.18 million hectares in the previous year. Similarly, the season's harvest is forecast to rise to 5.4 million metric tons (mmt) from 5.2 mmt in 2022-23. Added to expected imports of 1.8 mmt, FAS is forecasting total supply this year to be 7.99 mmt.
With relatively small amounts of corn exported by Thailand or used for other purposes, use in animal feeds is forecast to be 6.8 mmt in this marketing year. This would represent a year-on-year increase of 200,000 mt.
Based on data from the Thai Feed Mill Association, FAS is forecasting a recovery in total animal feed demand in Thailand in 2023 back to approximately 20 mmt. Until 2022, this volume had held steady since 2018, but there was a noticeable contraction last year.
For 2023, FAS has set broiler feed requirements at 8.5 mmt — up from 8.3 mmt last year. For pigs, domestic demand is expected to rise from 4.7 mmt in 2022 to 5.4 mmt this year. In 2021, the volumes were 8.7 mmt and 5.8 mmt, respectively.
New CP Foods' system verifies sustainable corn sources
Last week, Thailand's largest feed company announced it had implemented a new system to ensure the traceability of its corn purchases.
According to Bangkok Post, CP Group and CP Foods are now using a system that verifies the source of its corn requirements. In this way, the company will ensure it is only sourcing corn within the country that has been grown without deforestation or stubble burning.
The system has been developed by CP Foods with Charoen Pokphand Group's Feed Ingredients Trading Business Group (FIT). Thai corn growers are being urged to register their farms with the system.
In 2020, CP Myanmar introduced a similar system in that country, reports the same source. All of that company's domestic corn purchases are from verified sources.
Last week, it was reported that CP Group is considering a possible future spinoff of its feed and seed businesses.
Meanwhile, Thai agrifood group Betagro opened its first "fully intelligent" feed mill in Thailand this month.