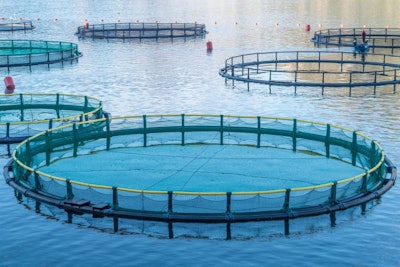 New fish oil alternatives provide means for fish producers to reach health-conscious consumers
Although they comprise some of the newest alternatives to fish oil and fish meal in aquafeed, plant and algae-based products are rapidly gaining popularity, particularly among producers who aim to target conscientious consumers.
Three of four companies to speak at a new ingredients webinar hosted this month by F3 Future of Fish Feed said their algae- or plant-based omega-3 oil products were in use by fish producers, especially at salmon and shrimp farms. Some said fish produced with their products have already reached grocery store shelves, where they could come with a unique competitive advantage.
Algae oil, according to Karim Kurmaly, CEO of Veramaris, "allows you to make a label claim, because you have a consistent omega-3 content in the feed, and therefore in the flesh. … That's going to be the new breakthrough in aquaculture. We're going to see labeling and branding backed up."
Veramaris was established in 2018 as a joint venture of DSM and Evonik, won F3's fish-free fish oil competition in 2019 and, despite COVID-19, tripled its production of algal oil in 2020, Kurmaly told webinar attendees. Its product, which contains EPA and DHA and can be used to either replace or supplement fish oil, is used to raise salmon, shrimp, trout, yellowtail and seabass — some of which are available in retail outlets. Most recently, Kurmaly said, Vermaris participated in an initiative to create a "vegetarian" shrimp — shrimp raised without any fish oil or fishmeal.
"We have come a long way," Kurmaly said. "Alternative feed solutions like ours are here, available and at scale, and we're economically viable."
Ruud Peerbooms, president of algae ingredients at Corbion, estimated that algae-based omega-3 oil is already used in about 30% of salmon diets. And that number is growing, he said, as more consumers take an interest in nutrition, and in sustainability.
"A major part of what is going to happen in driving change here is consumer demand and consumer awareness," Katrina Benedicto, director of marketing and communications for Nuseed, agreed. She said she believed demand for nutritious seafood high in omega-3, but with a low carbon footprint, would come from a combination of "industry committing to its own sustainable growth, regulation and demand from the consumer. A lot of that should come from institutional purchasers, the Walmarts and Ikeas of the world."
"We are at the beginning of a new industry," she said.
Nuseed, which sells an omega-3 product derived from canola, followed a similar trajectory as Veramaris, according to Pablo Berner, the company's aquaculture lead. The company's Aquaterra omega-3 oil was the product of an industrywide collaboration that entered commercial trials in 2018 and, throughout the next year, demonstrated multiple benefits, including improved feed conversion, reduced mortality and good fillet quality. Using the Aquaterra technology, Berner said Nuseed is able to produce enough DHA to replace 10,000 kg of fish on one hectare — about 2.5 acres — of land.
Benedicto, Peerbooms and Kurmaly all agreed that the potential for plant- and algae-based omega-3 oil to compete with fish oil on cost should exist, given that the oil is more concentrated and boosts fish productivity. David Hazelbeck, CEO of Global Algae Innovations, said his company has focused primarily on reducing algae production costs — and is close to bringing the cost of algae oil to US$1-US$2 per kilogram.
Global Algae Innovations is still pre-commercial, Hazelbeck said, and is refining its algae production process on an 8-acre farm in Hawaii. However, Hazelbeck said the company has achieved its cost targets and has now begun to focus on replicating the process at commercial scale, with plans to open a 160-acre farm in California by 2022, and a 5,000-acre farm elsewhere in the U.S. by 2024.
"Conventional algae production is 10 times too expensive for commodities," Hazelbeck said. "Commodities require technology and scale. … We've achieved the goals of this technology, and we're working to scale up."