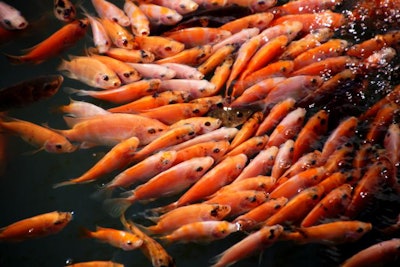 Emerging soy-based products could improve sustainability of aquaculture
Novel feed ingredients have their place, but emerging soy-based products could also help reduce dependency on fishmeal and improve the sustainability of aquaculture, according to company leaders who spoke during a recent F3 aquafeed webinar.
Most producers think first of soybean meal as the primary soy-based ingredient for animal feed, Lukas Manomaitis, technical director of the U.S. Soybean Export Council's aquaculture program, said. But soybean meal alone presents some challenges when used in aquafeed, including antinutritional properties that sicken fish and a low protein density relative to fishmeal.
Modern soy products, Manomaitis said, are designed to address these issues. New processing techniques, fermentation and even selective breeding have made soy an increasingly attractive alternative for aquafeed.
Zhijun Hu, CEO of Jiangsu Fuhai Biotech Co. in China, said his company has found success increasing the potential soy inclusion rate in aquafeed by treating the soybeans with enzymes. In one experiment, he said, catfish fed a blend of fishmeal and enzyme-treated soybean meal actually outgrew catfish fed fishmeal alone. Catfish fed the treated soybean meal and no fishmeal experienced decreased growth, he said, "but not too much."
Hannah Lucas, business development manager for Benson Hill, said the Missouri-based startup has taken a pre-production approach to making soy more suitable to aquafeed. Instead of breeding for production, she said, Benson Hill has selected soybean varieties for their oligosaccharide content. Lucas said this family of starches is one of the key "anti-nutritional" compounds contained in soy that irrigates the fishes' intestine and triggers illness and poor growth. Benson Hill, which Lucas said has obtained financial backing from companies such as Google Ventures and Louis Dreyfus, has produced a soybean variety that contains 1% oligosaccharides, down from 5% in conventional strains. The company is running digestibility studies.
Other companies, including DaBomb Protein Corp. and Menon Renewable Products, suggested that soy might not only help replace fishmeal, but antibiotics as well. Shrimp fed a soy peptides product from Menon Renewable have a 25% faster rate of growth, and a 40% higher survival rate, founder Suresh Menon said. Fin fish, he said, showed a 30% increase in growth, a 40% decrease in parasitic infections and a 9% increase in survival.
Menon said the company uses agricultural waste and co-products as the raw material for its peptides, which decreases the cost of the final product as well as the environmental impact — a growing concern that a representative from Brazilian soy processor CJ Selecta also acknowledged.
In response to concerns about the sustainability of soy-based products, CJ Selecta sustainability manager Patricia Sugui said the company has taken action to improve traceability and reduce its carbon footprint, going so far as to implementing satellite monitoring to ensure its products are free of deforestation.