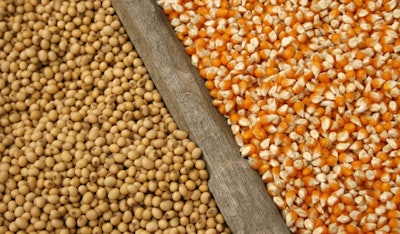 Report says government wants nutritionists to come up with guidelines for use of alternative grains
China's agriculture ministry is looking to lower corn and soybean meal content in animal feed, according to a Reuters report.
Reuters cited a document sent to animal feed producers and government departments in China that asks nutritionists to come up with guidelines for use of alternative grains by the end of March. The move comes as corn supplies in the country are tight and as pig producers are restocking after widespread ASF outbreaks decimated the herd during the past two years.
In February, China said it wanted to increase its grain yields by 2025 and grow support for its domestic seed industry. In the 2021 edition of its annual agricultural policy, known as the No. 1 document, China puts more emphasis on food security in the wake of the COVID-19 pandemic. China plans to build a "national food security industry belt" that would connect all of the country's key grain-producing areas.
China also plans to stabilize the production of soybeans, develop edible oilseed crops and diversify its imports of agricultural products. The document also puts new priority on the seed sector and aims for faster implementation of scientific advancements in breeding, as well as "industrial application of biological breeding," which includes genetically modified crops.
According to a recent Rabobank report, China's hog feed consumption is expected to increase 11% in 2021 over the previous year. Broiler feed consumption will also expand, but at a slower pace, while layer feed use will see a slight drop. Overall Chinese feed consumption is expected to increase 7% to 8% in 2021.
Soybean meal consumption in China will increase 6% year over year, and China is expected to import large amounts of feed grains, mostly from the U.S., in 2021.
Wheat use in feed is expected to see a "significant boost" as China's state reserve offers old/stale wheat and paddy rice to feed mills at lower prices.
"In addition, mills are increasingly using wheat to replace corn in the feed formula. As wheat has a higher protein level, the use of soymeal will also be adjusted accordingly," the report said.