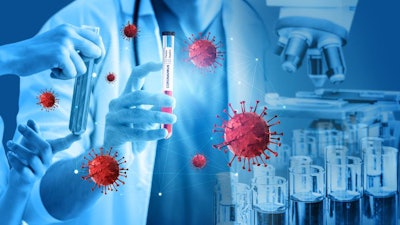 As the novel coronavirus pandemic marks its first anniversary, industry leaders reflect on what they've learned and how they've adapted
March 11 marks one year since the World Health Organization named COVID-19 a pandemic. Take a moment to think back on the past year: How has your life changed? How does your daily work life differ now from a year ago? What business lessons have you learned?
A year later, agrifood business leaders from around the world share their experience and reflect on what they've learned during this pandemic year.
Early lessons learned: 'Commitment, connectivity and culture'
In the early days of the pandemic, Feed Strategy spoke with Nutreco CEO Rob Koremans and Alltech President and CEO Mark Lyons about how their companies were coping with COVID-19.
Alltech's team on the ground in China had a firsthand look at the very beginning of the pandemic, and took action when they realized the situation – some of them even lived for a time in the production facility to keep the business running and mitigate the spread of the virus.
"As I reflect on the early beginnings of COVID-19, the effort by our production team members in Tianjin, China, stands out more significantly today, now that we know much more about the virus and the risks," Lyons said. "The fact that they understood the situation and acted promptly to move into the facility so we could keep production going seems even more heroic today than it did at that time."
Lyons credits Alltech's workplace culture and employee dedication to the company's success during a difficult year.
"Over the past year, we have seen this same level of commitment within our operational teams around the globe time and time again. I believe that early example set the tone and highlighted the critical importance of remaining operational to be able to support our customers," he said. "Without our team, I do not believe we would have been able to manage the situation and keep our almost 100 production facilities operational over the last year. Because of the team's commitment, we have been able to fulfill our responsibilities in the food chain and maintain supply to our customers and their animals."
Koremans said collaboration within the entire company has helped it cope with and respond to the pandemic.
"Our collaboration across the company, and with our parent and sister companies within the SHV family network, have allowed us to share best practices, tools and even supplies early on," he said. "Combined with this willingness to adapt to the new circumstances has ensured that we have been able to respond in a fast and effective manner. Dealing with a crisis of this magnitude requires many of us to pull together. Being able to use our extended network to battle large and complex, but also the small and simple, challenges is essential."
Caroline Vogelzang, director of investor relations at European farmer cooperative ForFarmers, said she has learned "that having good staff is crucial. And that flexibility is important – both in mindset as in business operations."
She said the pandemic has forced the animal feed industry to embrace digital systems and adapt quickly to doing more business from behind a computer instead of in person.
"As we immediately took measures to prevent COVID from spreading, this also entailed that we had to find ways to partly replace the adviser's visits on farm. We added online meetings to the on-farm meetings," she said. However, "our production and logistics colleagues needed to work at location. The majority of the other colleagues were asked to work primarily from home. Going forward, we are looking for the optimal solution to combine working from home with at the office."
This change was a challenge for the feed industry, Vogelzang said.
"The hardest challenge was to adapt to the new way of working – colleagues at a distance in combination with a significant increase in online meetings – from the one day to the other, whilst ensuring the continued supply of feed to our customers," she said.
Koremans echoed this sentiment, saying he also thinks Nutreco employees will combine in-person and remote work in the future.
"Despite the benefits virtual working and digital tools have brought us, we also see the need for human interaction," he said. "We have missed the coffee corner moments, the face-to-face meetings, networking and the social side of work. As we look to a post-COVID future, virtual and flexible working will become a regular feature for our employees, but we need to strike the right balance been virtual and face-to-face interactions."
This requires the ability to adapt and be flexible while keeping the team connected.
"The COVID-situation demonstrated that it is important to be able to scale up and down," Vogelzang said. "In addition, a learning is that social interaction – face to face – has obviously always been taken for granted, but is a key requirement for people to stay connected."
Nutreco has also focused more on connectivity.
"Whilst being a digitally enabled solutions provider for our customers has been at the heart of our strategy for a number of years, the pandemic has highlighted the importance of being digitally ready and sped up many parts of our strategy," Koremans said. "Understanding that remote work would be a prolonged arrangement enabled us to emphasize connectivity."
However, he said: "Remote working, in my perspective, is not a better or equal option compared to physically working together in an office. People are meant to be together. … As a very people-focused and relationship-focused company, we look forward to when we will all be able to be back together, albeit with new tools and ways of working."
Commitment, connectivity and culture have been the keys to Alltech's success throughout the pandemic, Lyons said.
"This time has shown us how special our culture is, and how important it is that we continue to invest in it," he said. "We discovered that interpersonal connectivity is both a requirement and an expectation."
Challenges, victories inside production facilities
But for protein producers and processors – whose employees don't have the option to work from inside their homes – the biggest challenge has been keeping processing plants running at capacity and mitigating disease spread.
"At the peak of the COVID crisis, pork harvest facility capacity was down approximately 40%," said Rachel Gantz, communications director at the National Pork Producers Council. "It was catastrophic, resulting in the need to euthanize animals intended for the food supply to prevent suffering due to overcrowding on farms. It also resulted in devastating financial losses due to the lost value of hogs marketed and those that had to be euthanized. Thankfully, the industry has been operating at greater than 95% of harvest capacity for a sustained period of time."
But Gantz said there were lessons learned from the pandemic that the industry can apply in the future.
"The COVID crisis was a black swan event that introduced unprecedented challenges to hog farmers and the pork industry," she said. "On a country and global basis, we are all more informed and prepared than we were at the start of the outbreak and we will undoubtedly learn lessons and apply them following this experience."
Gary Mickelson, senior director of public relations at Tyson Foods, said his company invested in changes at its facilities that would protect its workers.
"We've invested hundreds of millions of dollars during the pandemic to transform our U.S. facilities with protective measures, from walk-through temperature scanners and workstation dividers to social distance monitors and always-on testing, as well as provide additional team member pay and benefits," he said, adding that Tyson is testing thousands of workers per week for COVID-19 and has added a chief medical officer and 200 nurses and administrative staff, and is offering free, on-site COVID-19 vaccinations for employees.
"We're also offering to compensate workers for up to four hours of regular pay if they're vaccinated outside of their normal shift or through an external source," he said.
In a February 9 earnings call, Tyson President and CEO Dean Banks said these initiatives have had a positive effect on the company.
"The result of our proactive approach has been a dramatic reduction in COVID-19 occurrence within our plants – a strong accomplishment given the surge in cases nationally," he said.
Koremans said Nutreco's business has been affected by the pandemic, in varying ways across business segments and geographies.
"We had to adjust our operating model to ensure a safe working environment in our factories and laboratories and implement remote working policies for desk workers under lockdown restrictions," he said. "In our factories, we implemented additional safety measures such as temperature checks, increased cleaning procedures, closing access to plants for non-critical staff, staggered shifts, adjusted workflows to limit people interaction and additional (personal protective equipment). These changes helped us to continue to meet the production demands and continue to serve our customers."
But, even with those safety measures in place, the company still suffered losses due to COVID-19.
"One of the hardest challenges we have faced is that Nutreco has had a large number of people getting ill (from) the virus and even a small number of employees passed away," he said. "Combined with the fact that all of our employees have also struggled with the same challenges or health fears with their loved ones. Our employees' safety is our No. 1 priority. Whilst we have done our utmost to keep our people safe and provide addition support and flexibility where needed, it is difficult not being able to fully shelter our employees from the impact of the pandemic."
Shock to the supply chain
The COVID-19 pandemic has had a huge effect on the ways people order, purchase, prepare and consume food and those changes have been felt across the supply chain, from feed to fork.
"During the past year, we have seen concerns over food security due to the pandemic and political reasons. COVID-19 restrictions including lockdowns and the closing of the hospitality industry have forced consumers to change their purchasing patterns," Koremans said.
Vogelzang said the animal feed industry felt the effects of the closure of foodservice and hospitality outlets, but Koremans pointed out that the supply chain has been resilient.
"The food supply chain is based on physical flows of goods, manufacturing and processing steps with, in our case, products reaching to farmers and animals across 38 countries," Koremans said. "Overall, the animal nutrition supply has showed a good operational resilience, with all stakeholders acknowledging its critical importance. We hope that the consumer recognizes the contribution of the farmers in these difficult times."
Meanwhile, Banks said that while foodservice volumes of Tyson's products are still down, ecommerce has grown. He expressed optimism for the future.
"Our channel and category mix sets us up well for a recovery as nationwide vaccination efforts are expected to drive more away-from-home protein consumption occasions. It's important to note that some foodservice operators have adapted very well to the current environment and have embraced drive-through and takeout. Many of these operators are not seeing the volume declines that others have, and some are even outpacing historical pre-COVID-19 performance," he said. "We expect ecommerce channels to remain very relevant moving forward as consumers maintain and shift to convenient and low- to no-contact buying methods."
Reminder about threats from foreign animal disease
The devastating effects COVID-19 has had on the human population demonstrates the threat of a foreign animal disease such as African swine fever (ASF) to the U.S. pig population, according to Gantz.
"Living through COVID-19 has made everyone aware of something pork producers have known for some time: severe, negative economic impacts and supply chain constraints result when a foreign disease enters the country," she said. "If a foreign animal disease such as African swine fever (ASF), were to enter the U.S. swine herd, it would cause billions of dollars in losses and lead to an immediate loss of export markets. To prevent such a scenario, we need to ensure the United States remains vigilant to protect agriculture from foreign animal diseases."
And Vogelzang noted that the livestock industry's experience with disease outbreaks uniquely prepared it to deal with COVID-19.
"The fact that the livestock industry – alas – is accustomed to outbreaks of animal diseases and has accordingly installed a collaborative manner to impose hygiene measures to prevent the animal disease from spreading has helped our industry," she said. "We are used to being flexible, decisive and immediately taking action."